I've finally completed my the interior of my 10' TI observatory. It's taken quite awhile to complete due to costs and finding the right materials for what I had in mind.
I posted the original structural build here: https://www.cloudyni...10-ti-pro-dome/
Since that post I've installed the electrical, walls, painting, staining and carpet. I also built a concave eyepiece cabinet to fit against the observatory wall.
Post for concave Eyepiece cabinet can be found here: https://www.cloudyni...my-observatory/
Since I last posted this build I was at the point of installing the 16" Mead LX200R. None of the interior had be completed and the observatory was basically just roughed out. I've was able to try out the scope a few times over the summer but weather has been unforgiving and very humid.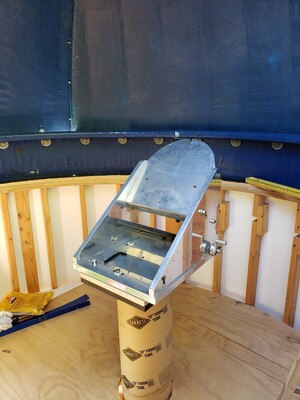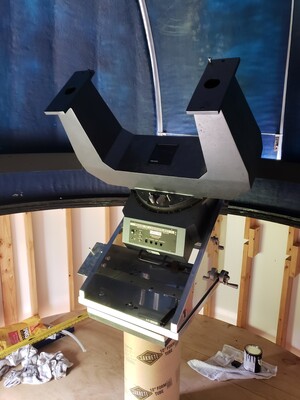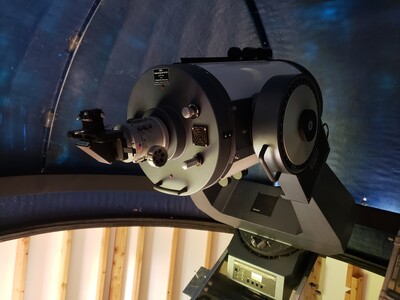 One of the more difficult issues to resolve was how to wrap wood around the interior walls. The solution I found is a product called "Pole Wrap", used to wrap lolly columns in finished basements. They come made in a variety of wood and even MDF. I chose oak as I wanted a stained finish. You can purchase 4'x8' sheets and cut them to size. In my case 32" tall along the wall. Expensive but easy to install and look great. I installed a 6" PVC trim, painted black, along the top of the wall to tie into the dome support wall.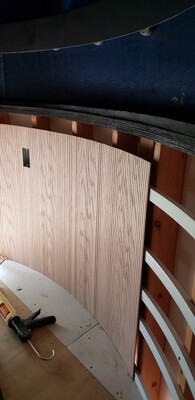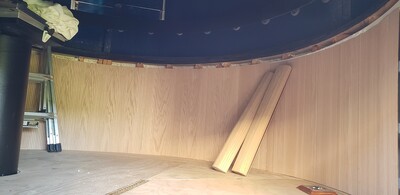 I also installed the pole wrap around the pier.
To install the stairway wall I already had some bead board and utilized a template made of poster board to cut and fit the board to the steps. Her the template is in place.You can also see the notches cut out along the trap door support edge to support the door's bracing.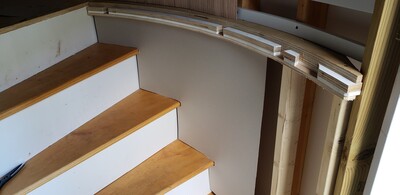 I wanted a storage area under the floor so I cut out a doorway and can also access the electrical panel.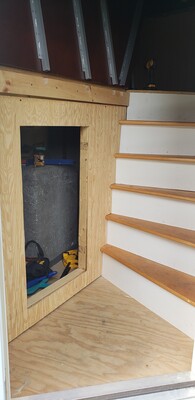 I stained the walls and stairs and applied polyurethane for a nice glossy look.
Installed a black rug - here's the trap door.