Hi All,
I wanted to share with you my latest project a mosaic of the veil nebula.
This is my 2nd image using the 2600MM which I am really pleased with. I got a lot of advice here regarding the 183MM, 1600MM and 2600MC and I am really pleased with the choice. Shooting in mono was not at all difficult to set up in NINA using the filter offsets I can build up the data for all the filters keeping the ratio of subs on each filter where I want without getting caught out incoming clouds so I always have something to work with. The camera itself has been fantastic really easy to use and get set up.
This was also my first mosaic which was a challenge, setting up the framing in NINA was easy as was using the advanced sequencer to gather data for both panels. The only problem was that the weather really worked against me and I wasn't able to gather as much data as I would have liked. It's something I will have to bear in mind in the future with mosaics as this basically halved the my integration time compared to what I could have done otherwise.
I had some issues with local light sources and gradients so I went through the process of gradient removal and stitching the mosaic several times and I'm still not that happy with it. Having gone through this process a number of times I actually had an issue where after gradient merging the panels I was unable to realign the different channels in some regions of the image. I realised a way to get around this and cut down on the time was to first integrate the different channels to a colour image (no other processing just DBE and cropping first, so no noise reduction, linear fit etc.) Do the alignment of the panels which aligns all 3 channels at once do the gradient merge mosaic then separate out the channels again to continue processing as separately. I found this a) reduced the time taken to do the whole process as I didn't have to repeat everything 3 times e.g. with manually masking of stars an b) guarantees you don't mess up the alignment between the channels.
Here is my end result, I opted for an OSH combination because I liked the colours, please let me know what you think. The full processing details on the image in my gallery for those interested.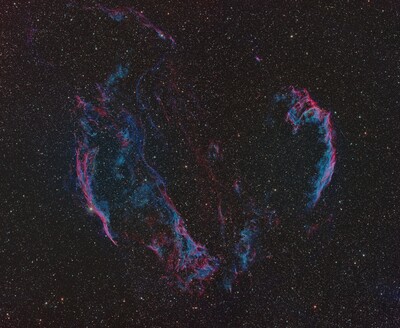 I also experimented with starnet and some pixelmath to create a final edit that looked a bit more explodey. I think the fact that the whole veil nebula was created by one star exploding over 10,000 years ago and that the effects of that supernova are still playing out today is incredible. I mixed a starless layer and image with the stars so that the stars look like they are part of that explosion too (obviously they are not really) tapering off to a starless clipped background. I think it looks quite nice but I'm also aware that starnet has left some artefacts and its quite artificial.