Hi!
It has been a lot of posts from me recently, because of some trouble with my new reflector, a GSO 12" dob.
It is so nice to be able to post on this forum and ask for help, and I really appreciate the answers I get!
"Luckily" there are a lot of cloudy days (and nights) at the moment, so I have many days to sort out the issues.
My question is about aligning the secondary.
When collimating I first align the secondary under the focuser. I have tried this both visually and with laser collimator. When measuring by eye I have noticed a tendency where the secondary is always skewed towards one side of the focuser, as if its axis (the axis that is paralell to the tube) is tilted. I use various concentric lines in the focuser as guiding lines.
To correct this I have to constantly fight against the secondary holder, turning one of the 3 collimation bolts as far in as it will go, while only gently adjusting the other 2.
It does not feel right to assymetrically overtighten bolts in an optical system.
I have checked the spider itself, and the secondary holder is in the center of the tube.
However, when using the laser, the laser beam will only hit the center mark on the primary, if I allow the secondary to be skewed! After having used the laser, I remove it from the focuser, and check the secondary visually. It is always skewed! Multiple degrees it seems...
Is this due to cheap chinese mechanics? Or is it fixable?
It seems so weird to me that the only way collimation works is if the secondary is obviously not centered onder the focuser drawtube.
Below is an image where I have drawn circles showing focuser and secondary outlines. The yellow line is the axis that the secondary seems to follow.
Best Regards,
Espen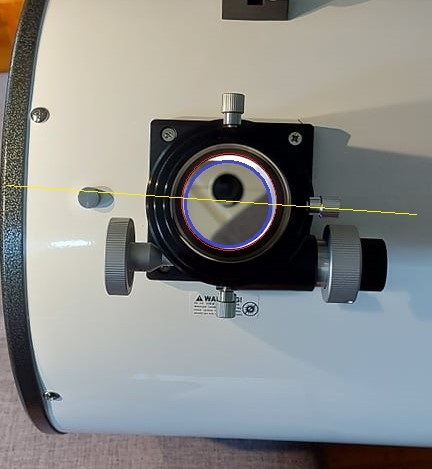 Edited by espnerhus, 18 September 2021 - 08:55 AM.