Actual testing is the best way to prove out a design, and Oberon has tested numerous spider designs in his excellent Spiders on Trial thread. Highly recommended.
Second best is finite element analysis, which was used to assess a couple unconventional curved vane spiders. I compared these to a conventional three-vane spider. The criteria are deflection and first modal frequency. Low deflection is key to maintaining collimation. First mode is the first natural frequency at which a structure vibrates. There are also a number of harmonics, but the first mode is generally considered most important. The stiffer the structure, the higher its first mode. In the case of a spider, stiff is good. All analyses assume the scope is pointed at the horizon (Altitude = 0 degrees), worst case for deflection. Some of the analyses use actual geometry for the secondary and holder. Others employ a point mass offset from the spider and connected to the hub. The combined weight of the secondary mirror and holder is assumed to be 0.3 lb. All vanes are steel; Hubs are either wood or steel, depending on the design.
First up, an un-tensioned three-vane spider with .007 in. thick x 1.5 in. wide steel vanes fit into a 15 in. I.D UTA. The hub is wood. The larger cylinders at the three adjustment studs are bushings fixed to the UTA. The studs are free to slide in the bushing bores. A displacement constraint is placed on the stud ends. The constraint is used to stretch the spider vanes radially outward as would happen when tightening the tensioning nuts. For this un-tensioned case, displacement is held at zero inches. Gravity is vertical down in the images. One of the three vanes is aligned vertically with gravity.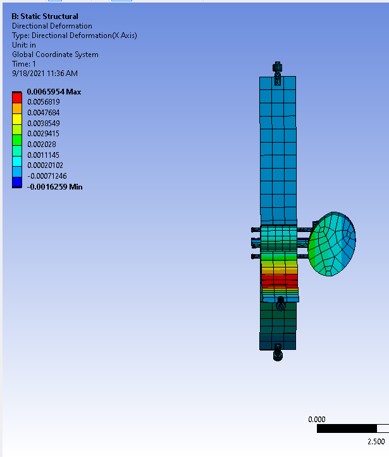 Vertical deflection at the mirror (in the direction 90 degrees to the optical axis) is about .002 in.
First mode = 30 Hz torsional about the optical axis
Next, the vanes are stretched .001 in. radially. This results in a 43 lb tension. For a 1/4-20 stud, that's about 1.6-2.0 lb-in. of torque on the tensioning nut.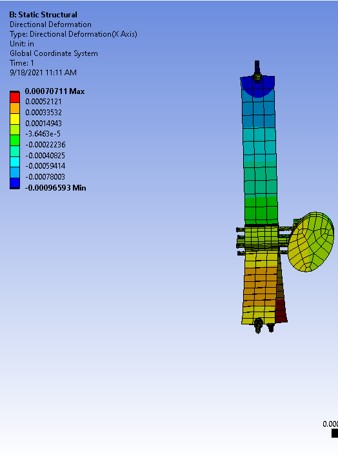 Vertical deflection at the mirror is less than .001 in.
First mode = 100 Hz torsional about the optical axis
Doubling stretch to .002 in. doubles the tension and torque and raises first mode to 135 Hz. Mirror deflection is just slightly less than at .001 in. stretch. This shows that first mode is not linear with tension. Also, there is likely diminishing returns for further tensioning, which would require an increasingly stouter (heavier) UTA structure.
Now, compare this to a conventional curved vane design. Again, vanes are .007 in. x 1.5 in. wide. Hub is steel hex. No tension, of course. Ends are fixed to the UTA I.D. A point mass simulates a 0.3 lb secondary and holder offset 1.5 in. from the hub.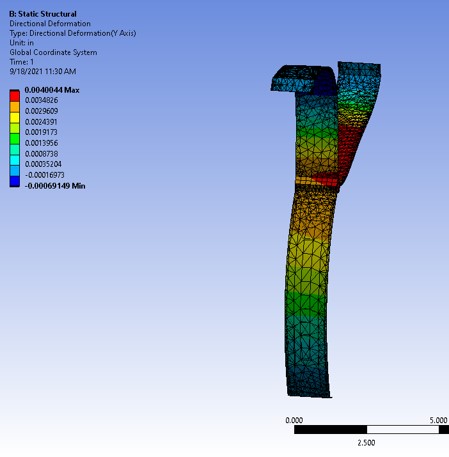 Vertical deflection at the hub is .004 in.
First mode = 51 Hz rocking in plane
In this case, the curved vane spider deflects more than an un-tensioned three-vane spider of the same thickness and width. It also helps to explain why curved vanes must be made relatively thicker.
The first alternative curved vane design is a single loop .010 in. thick. I thought I had come up with something novel, but later discovered another CN member thought of it earlier and successfully built and used one. The hub is made of wood and employs a 4-screw adjustment. This departs from the single-loop spider posted on Stellafane that has no angular adjustment and must be bent into alignment.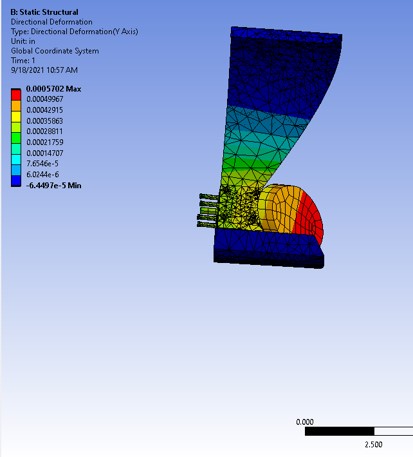 Vertical deflection at the mirror is less than .001 in.
First mode = 114 Hz rocking in plane
Two concerns with this design: the wide vane must be perfectly aligned with the optical axis or it will optically appear much thicker. Also, off-axis incoming light may be diffracted more than from a less wide vane.
The second alternative curved vane design adds material where moment loads are highest. This stiffens the structure, raising first mode and lowering deflection. The added material resides outside the primary mirror O.D. and shouldn't impact diffraction, I think. The vanes are .007 in. thick x 1.5 in. wide with 4.0 in. wide ends. The assembly uses a steel hex hub and, as in the previous case, a .3 lb secondary offset 1.5 in.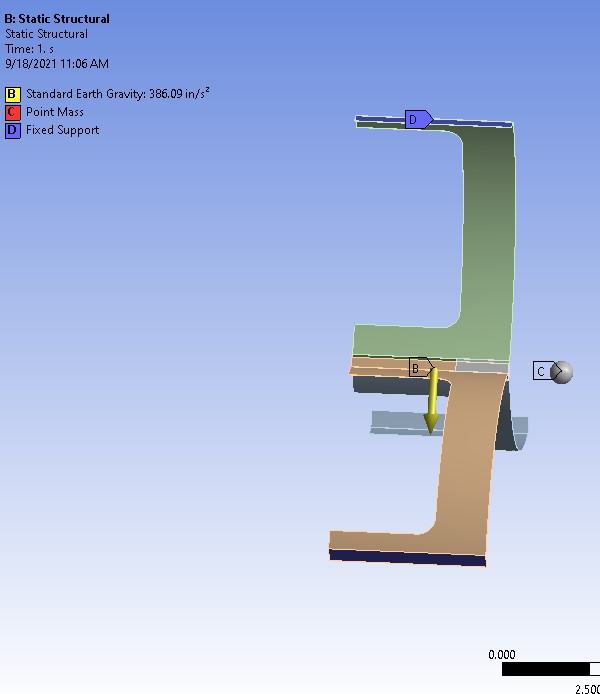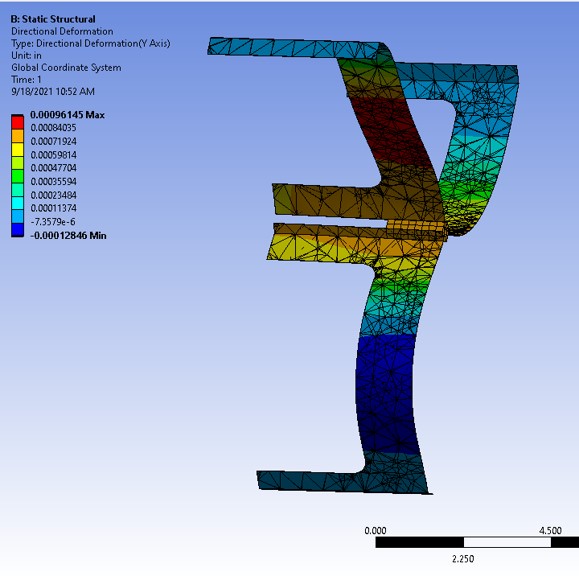 Vertical deflection at the hub is less than .001 in.
First mode = 106 Hz rocking in plane
I'm encouraged with the results. Deflection and modal frequency are about that of a tensioned three-vane spider of the same thickness.
Keep in mind, these analyses assume idealized attachments. In reality, deflections may be slightly higher than calculated. That said, it helps identify trends and inform design direction.
Edited by bigbangbaby, 19 September 2021 - 05:39 PM.