Telescope: 8" LX80 @ f/6.3, LX90 mount, altaz mode
Camera: Stock Canon 600D, interval timer
Filter: GSO IR Blocking Filter
Guide scope: None
Exposure: 29x10sec, ISO 1600, saved as RAW
Darks: Internal (Long Exposure Noise Reduction On)
Flats: 32x1/20sec, Tee shirt flats taken at dusk
Average Light Pollution: Red zone, Bortle 8, fair transparency
Lensed Sky Quality Meter: 18.5
Stacking: Mean with a 1-sigma clip.
White Balance: Nebulosity Automatic
Software: Deep Sky Stacker, Nebulosity, Photoshop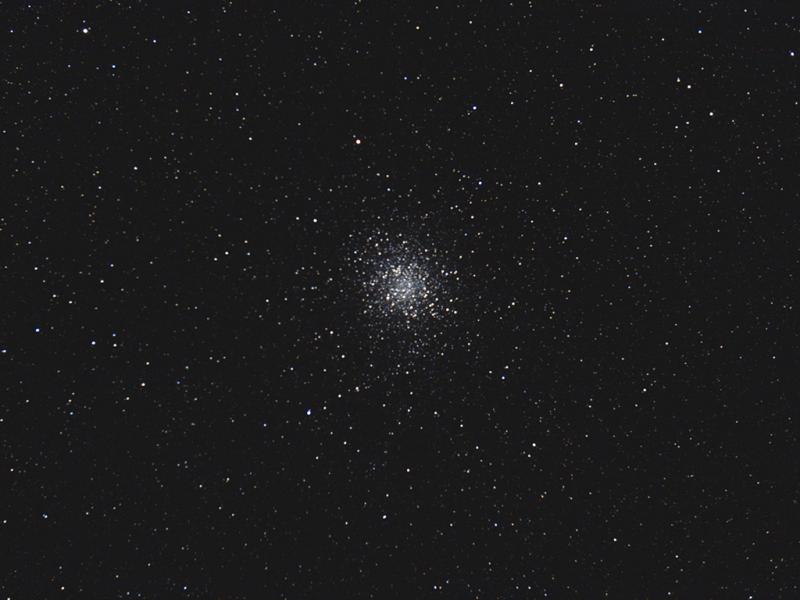 M22 is a large, bright, class 7 globular cluster in Sagittarius and is one of the gems of the summer sky in the northern hemisphere. With an estimated distance of 10,600 light years it is one of the closer globulars in our galaxy. In many ways M22 should outshine M13, but it can get a bit lost among the stars along the Milky Way near the Sagittarius star clouds and its light is dimmed by dust along the galactic plane. Still, it is large, bright, and easily resolves into this beautiful glow of stardust even in a modest telescope. In a large telescope it blossoms into a glorious sight.
This is part of a series of images that I will be taking to explore deepsky imaging using fairly basic equipment and techniques.