Is That You? You've Changed!
If you are like me you've modified your telescope to better suit you, or you want to but are unsure where to begin.
I've made a number of changes to my 'scope over the years that greatly improves how it operates and how I image with it. Most of these are pretty easy to do and half of them are very low cost. So let's have a brief look at them…
My Telescope
Celestron 8SE, used for monochrome imaging only. Operating at F5.7 it has a fairly small and fixed 17x25 arc-minute FOV.
My Imaging Environment
A 9th floor, mid-town Toronto balcony, that faces NW with a limiting magnitude of just 3.0-3.5.
Here's the list of changes learned and made over the years in order to use the 'scope the way I need to in my difficult skies…
1 - The No-Eyepiece Telescope
In my badly light-polluted skies, I learned early on to abandoned visual astronomy and switch to astro-imaging. No regrets. That change alone improved the 'scope's limiting magnitude from 12.2 visually, to 15.5 using video on the laptop, and 19.0 using 15-minute exposures. I don't even own an eyepiece.
2 - Red Dot Not
I added an 8x50mm illuminated optical finder 'scope. It's has illuminated double cross-hairs because I need to know exactly where the center is for the main 'scope's alignment as it has a small FOV. The red-dot finder that came with the 'scope simply isn't useful in a light-polluted sky as I simply can not see very many stars. I use it for very bright targets only.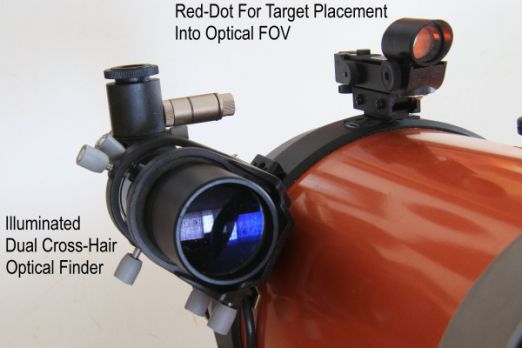 3 - Use a Dew-Shield, But Not For Dew
Being 9 floors up I never have dew, instead the dew-shield is to keep the local lights from striking the corrector plate which reduces image contrast.
4 - Friendly Filter Wheel
If you image this a high convenience must-have.
5 - Light Leak Surprise
However, my filter-wheel leaks a lot of light. In the big city, my balcony isn't very dark. I also have living room lights behind me that further floods the balcony. I made a custom cover for the light-leaking area of the filter-wheel and then cover the entire filter-wheel with two layers of soft black cloth as added light protection. The difference in the background light of the images is quite noticeable.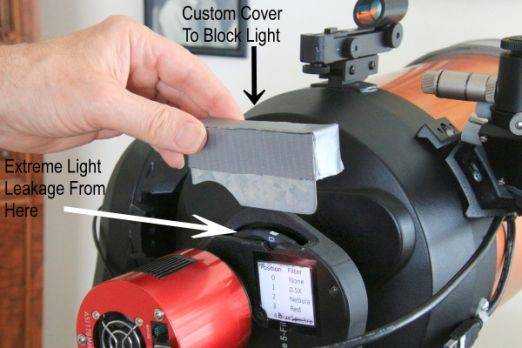 6 - Making Space To Photograph Space
Because this 'scope was not intended for astro-imaging their wasn't room to fit in a filter-wheel and a camera to the end of the 'scope. As such I replaced the telescope's mounting rail (dovetail) with a longer one that moves the optical tube forward on its mount to fit these parts. Mine is home made but commercial units are available.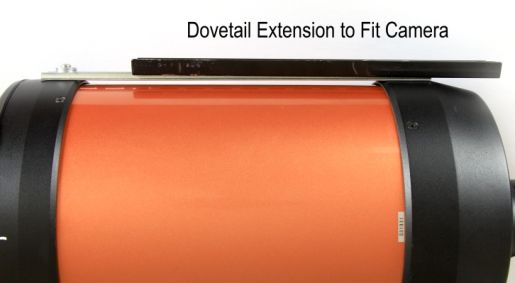 7 - Tripping Over Tripods
I abandoned the low-quality factory telescope tripod as it places the 'scope farther away from the balcony railing and at too high a height. Both of these placements further limit my balcony's FOV. Plus, I kept kicking the tripod leg thus losing my alignment…, and my image. Instead, I attach the 'scope with its tripod mounting plate, directly to the balcony railing using a custom-made platform. The 'scope attaches with just three hand-tightened bolts. The rock-steady platform stays permanently on the balcony railing and easily folds away when not in use.
8 - Controlling The Control Knobs
I added an extra-large rubber grommet over the dovetail's release knob. This makes it much easier to remove the OTA from the mount, allows a tighter OTA connection back onto the mount and is so much easier on my hands in doing so. I also cut and placed multiple silicone tube sections over the telescope's many small knurled steel adjustment knobs for the same reasons. Cheap and easy, a must do.
9 - E-x-t-e-n-d-i-n-g The Hand Controller Cable
I added an RJ-11 extension cable to the 'scope with a secure semi-permanent connection to the port inside the hand-controller's storage dock. Make sure you add the proper RJ-11 extension cable or you'll burn out the controller. I did this to extend the operating reach of the controller and because both RJ-11 ports at the mount's base became fatally damaged over time. This left me with only one remaining, and now well protected controller port, to operate the 'scope with.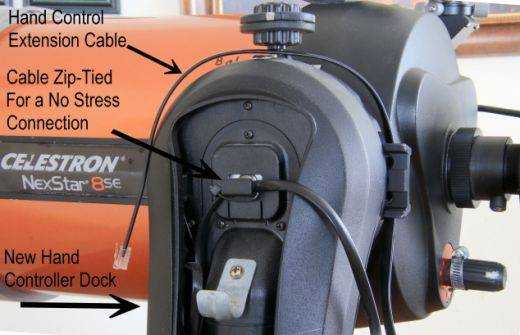 10 - Handling The Hand Controller
I drilled a small hole in a convenient safe place on the mount to attach a hook that now holds the controller in a convenient place when I'm using the 'scope. The factory dock location simply wasn't practical. Free and easy to do.
11 - Lens Cap Alignment Marks
With white correction fluid I marked the top of the 'scope and the 'scope's lens cap with index marks. Without them it's difficult to get the correct orientation to put the 'scope's lens cap back on, especially in the dark. Free and easy to do.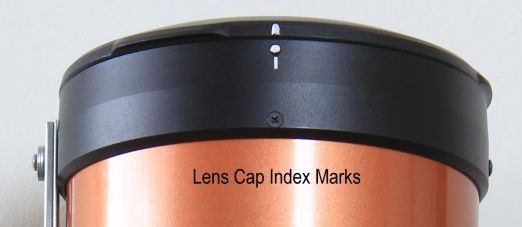 12 - The No Trouble Bubble
I installed a dual-axis, adhesive mount, bubble level onto the mount's base. A level 'scope is usually needed for proper alignment with the sky. This is a dollar store item.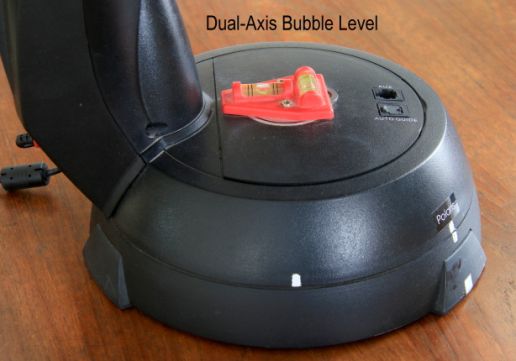 13 - Your Dimples are Cute
I drilled two small dimples 90 degrees apart, into the end of the nose piece where it inserts into the 'scope's visual back. These dimples are precisely located to align with the ends of the two knurled knobs that when tightened, securely hold the nose piece in place. I learned this the hard way when my DSLR camera that had no seating dimples for the two knobs that tighten it, fell to the ground damaging my camera. Be precise with the dimple's location. This no-cost modification is a necessity.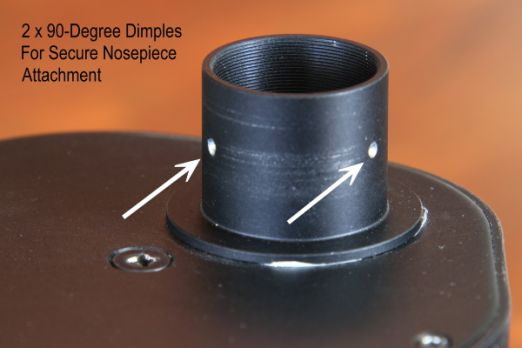 14 - No Speeding The Power Supply
Slewing the 'scope sometimes generated a non-explanatory controller error code that shuts down the 'scope requiring a new alignment. After much frustration I later found out that my "recommended" power supply was undersized and was being overloaded by the slewing motors. I changed to a larger power supply, often slew one motor at a time and haven't had a problem since. Use an oversized power-supply and save yourself lot of frustration.
15 - Finding Polaris Without Alignment…, Or Even Looking At The Sky
My telescope alignment is quite difficult in light-polluted skies because…
My 'scope has a small and fixed FOV.
The balcony has a limited view of the sky for alignment stars.
I can't even see 95% of the stars.
For these reasons I always use Polaris as one of my alignment stars, plus it doesn't move in my difficult-to-see sky! To easily find Polaris I placed index marks on the 'scope's EL and AZ areas and simply slew the 'scope to both index marks without even looking at the sky. Polaris will then be easily visible in the optical finder and when centered will be in the main 'scope's FOV. Polaris is now an easy alignment star find with this huge no cost time saver.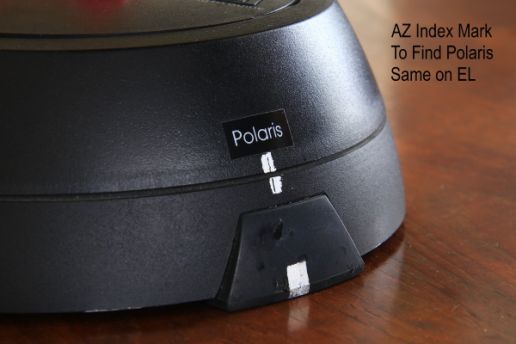 These are the improvements I've made necessitated by my telescope experience in my particular imaging environment. Using them has saved me a lot of time and frustration. Consider trying a few of them out for yourself. I'm hoping that some of them can help you as well.
Here's a sample photo using the equipment and imaging environment previously described.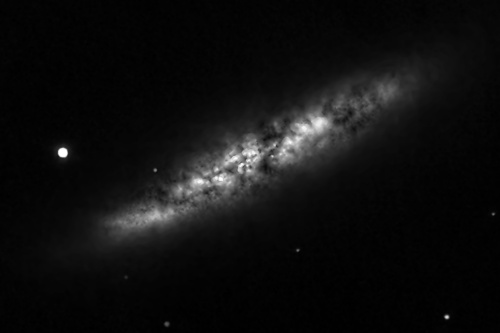 M82, 10 minute exposure, no filters.
More of my imaging results can be found using the website link in my signature below.
Happy hunting.