After many years of imaging with only very minor tilt problems, I seem to have gotten myself into a major issue with one of my systems. I have a TV127is scope coupled with an ASI071 OSC camera. A while back I took the camera apart to replace the dessicant plugs. I didn't understand that there were tilt push pull screws that needed to be all in the right place. When I put the system back together I had really bad tilt because I suspect that I rotated the tilt plate on the front of the camera.
Previously I sent some other images to Televue and their reading was that this was a combination of tilt as well as the scope being pretty much at it's limit with an APS-C chip. They recommended getting the large field corrector which I have. I can't put that in the train, though until I get the tilt at least a bit under control Right now it's pretty awful.
So, I completely reset the screws so that the plate was flush to the camera body and took some images last night in my back yard. I could not reduce the tilt numbers in any significant way no matter how I adjusted the tilt plate. I tried each screw in turn but that didn't do much other than make things a little better or a little worse. The center of the images look fine both by inspection and by measurement using MaximDL and CCD Inspector.
So, while I don't expect perfection - an APS-C chip is about as big as you can expect to be useable with that scope, I did expect better results.
That leads me to ask a few questions.
1. What is your workflow to determine the direction of the tilt and which screw(s) to turn?
2. Do you loosen all three of the pull screws and then just adjust the push screws that you think are the problem? Or do you do something else?
3. Should I debayer the images before analyzing them? I'm not sure when measuring that the matrix doesn't distort the numbers.
4. What if any tools do you use when analyzing tilt?
5. Does anyone use a tilt adjuster instead? Which one?
Any help that I can get would be greatly appreciated. Right now, unless I'm imaging something really small in the center of my field, the results are just terrible.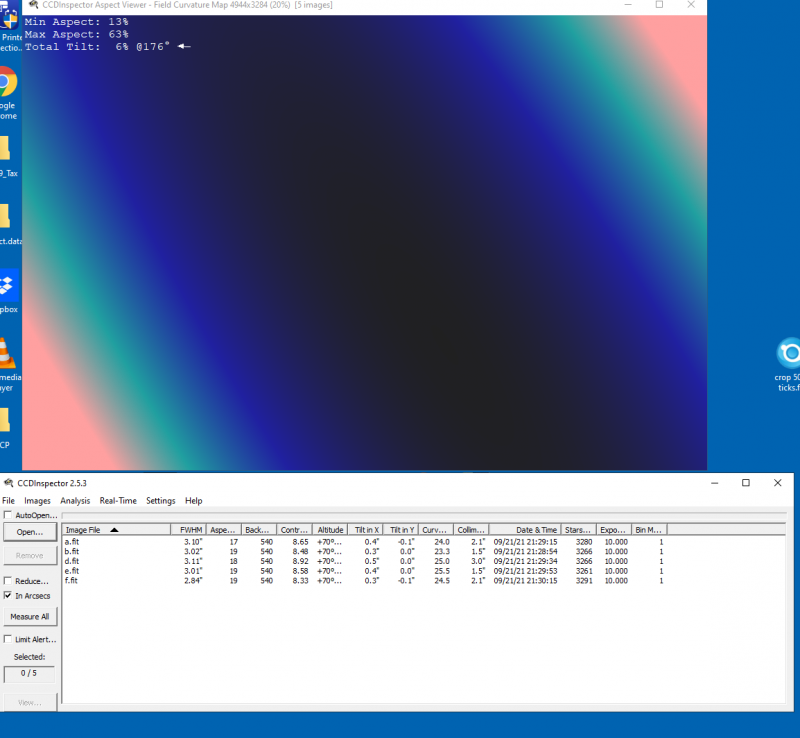 This is what the last run looked like. It's a bit worse than some of the others. I need some guidance around workflow more than anything else.