There are a few posts on this forum explaining how to use unmounted 1.25" filters with Mod-3 devices and larger aperture camera lenses, involving modifying a c-mount adapter with epoxy to attach an empty filter ring inside the adapter. For example here and here.
If you are open to using M42 lenses (available on eBay and elsewhere), here is another alternative for the Mod-3 that uses swappable 1.25" filters without the need for unmounting or modifying adapters with epoxy.
The connection between the Mod-3 and the lens is made as follows:
1. Mod-3.
2. 5mm c-mount spacer (to clear the manual gain knob). (link)
3. C-mount to M42 adapter. (link)
4. 10mm T-Thread (M42) extension tube. (link)
5. 1.25" filter adapter for T-Thread (M42) capture. (link)
6. M42 lens (in my case an 85mm f1.5 lens).
The filter adapter has a center hole threaded for 1.25" filters and an exterior diameter just smaller than the inner diameter of the M42 threads. So filters screw into the adapter, and the adapter "sandwiches" in a T-thread male and female union, in this case between the extension tube and the lens. The 10mm extension tube is used to get the lens in the "sweet spot" where it will comfortably reach focus at infinity. I played around with different extension tube distances, and +/- 5mm from this will probably also work.
For this configuration, I ended up purchasing a filter adapter for each 1.25" filter I own. The adapters fit in the filter cases, and this way it is easy to quickly swap between filters as needed by removing the lens, swapping the adapter/filter combo, and re-attaching the lens. I have taken this set up out a few nights now and it works great. Some pictures are below.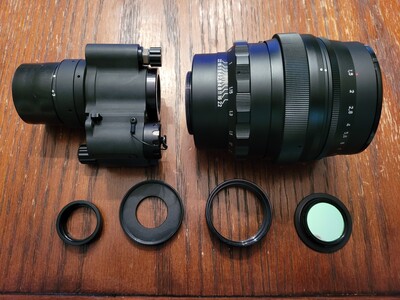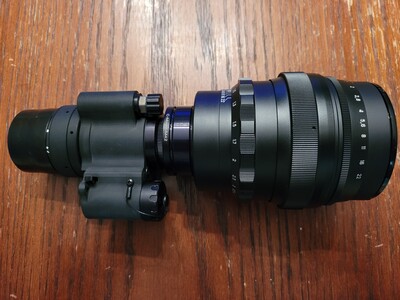 Edit:
Realized I should also post what didn't work for me in case others are curious. The above set up using the
TS filter changer
(instead of the 10mm T-Thread extension and filter adapter) had just a bit too much optical path to focus at infinity. It was close, so a narrower M42 filter changer might work, but I'm not aware of one that's currently marketed.
Edited by stnagy, 22 September 2021 - 04:48 PM.