In researching and revisiting my passion for astronomy from my youth with my kids, and after *so much help* from many online (on reddit -- this is my first post, here!) for all of my questions and steering me in the right direction (and away from other directions I thought I should go down, initially), I was *very fortunate* to have been given a free Meade 6600 w/ Mizar (I think it may be an AR-1) GEM. This is apparently a scope/mount combo from the mid 1980s, but I think it has a good reputation -- especially the mount, it seems.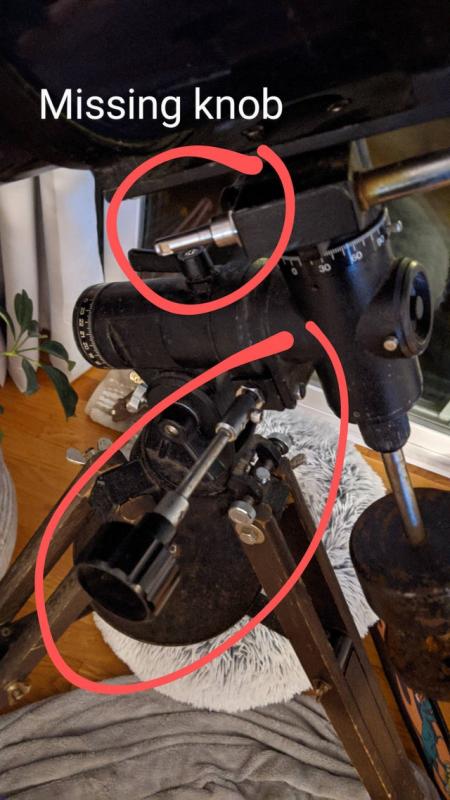 However, it's missing a slow-motion knob for the declination, and I'm having trouble finding (understanding?) a compatible replacement. Can anyone point me in the right direction? Is this some universally compatible system I should be able to find various compatible knob styles as replacements for? I'm fine with getting completely different style knobs as long as they're compatible -- if so what should I be looking for?
I found the original Meade 6600 manual online as a pdf, but it doesn't say anything about this, unfortunately, and the Meade website didn't seem to have what I'm looking for.
It's old, some of the hardware and weights are a bit rusty, etc -- but it otherwise seems like it works great. The 6x30mm straight finder scope was wobbly on the OTA, but I tightened everything up and just need to calibrate everything a bit better, now. It is also missing the rubber "feet" and so have to place it on soft surfaces to avoid scraping up my floors while it's inside. Any direction on finding these replacements would be helpful, also, along with any other suggestions on improving or otherwise modernizing the situation around this scope & mount.
It came with a couple stock, basic plossl eyepieces and I just ordered the SVBony Redline ultra wide angle eyepieces (6mm, 9mm, 15mm and 20mm), a SVBony 7mm-21mm zoom lens and the Celestron Omni 2x Barlow. Also a simple moon filter. Might grab a Telrad as well (it comes with a straight 6x30mm finder scope, no cap), but am curious around what it would take to pick a good quality / versatile gun reflex scope and find ways of mounting one of those, instead. Have already had some fun with it, even balancing it and learning polar aligning, and looking at the moon even with the stock eye pieces, and am very excited to continue down this rabbit hole with my family and kids!
I also wonder if the polar alignment viewfinder is still available anywhere to buy? I've seen a number online but there are many of them and don't know where to start to get the right fitting / compatible one.
I live in the South Shore of Boston, MA area, if it matters. Any help & guidance is greatly appreciated!