Just putting this here in case anyone is interested or finds it useful:
I picked up an early Tele Vue NP101 and I wanted to fit a Zwo EAF focus motor to it and I thought I would share the method.
The NP101 has a small rectangular cover to the rack and pinion mechanism with 4 screws holding it on. The plate that came with the EAF was not wide enough to fit the positions of the screws and mount the motor aligned with the axis. However, I had an EAF Bracket for Celestron SCTs that is available to buy separately. It has a wide plate with lateral slots:
You remove the plate with the collar that goes round the focuser and you have a plate with mounting holes for the motor. I notice that the bracket for Takahashi Scope also has this plate (or possibly a longer one that should still work).
I then bought:
5mm to 9mm Flexible Coupler Connector (this size is not amongst those in the EAF box but is readily available from 3D printer suppliers)
2x 6-32 thread, 3/4 inch UNC hex-cap screws
8x 0.375 inch washers
(these are all non-metric to fit the telescope threads).
To mount the plate I removed 2 existing screws from the cover of the rack and pinion (leaving two that were furthest from the side that would have the motor). I then stacked 3 washers as spacers and attached the plate to the closer two threads using the longer screws (and another washer on top to hold the plate). This is what it looks like: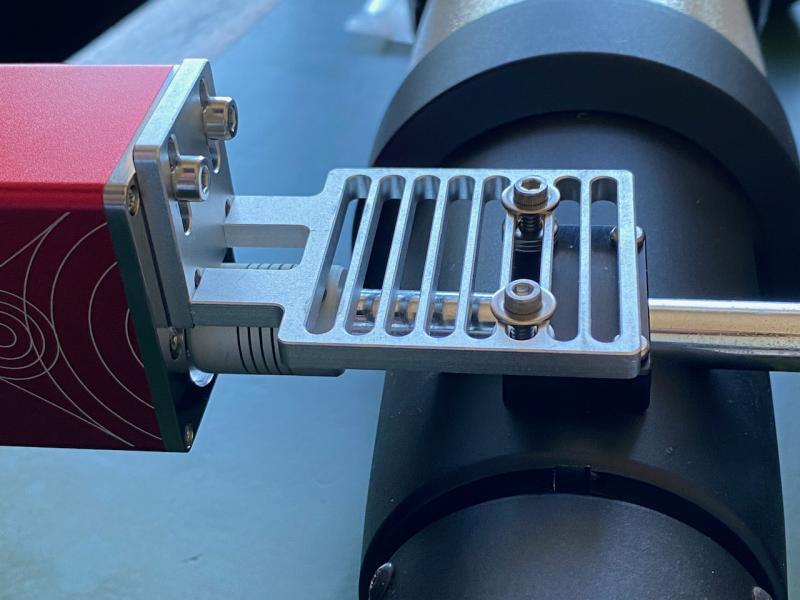 This feels stable enough as the motor is light. The other two screws don't align with a slot in the plate. It might be possible to use longer screws here and some washers so the plate presses against these screws to provide more stability but I don't think it is necessary.