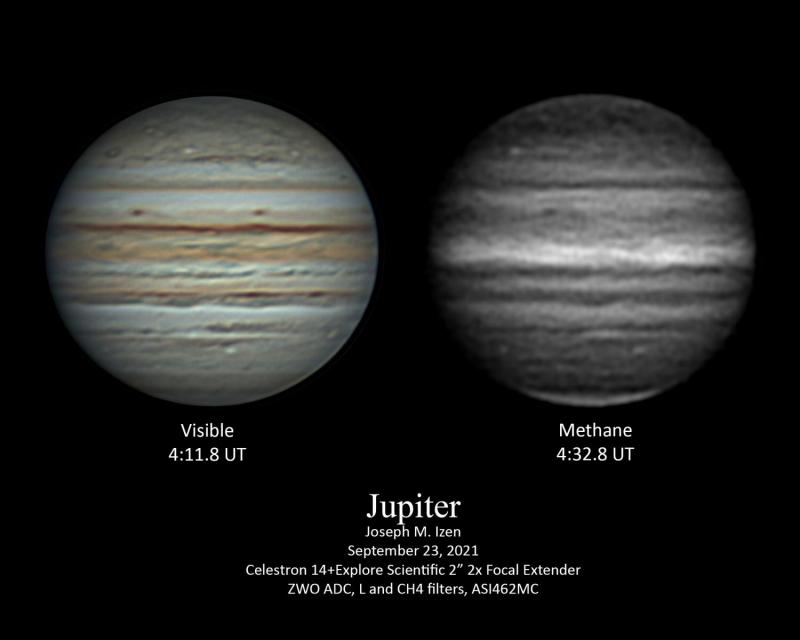 These photos are an exploration of the ASI462MC as a monochrome(!) near infrared camera, and as an alternative to my ASI290MM. Ordinarily, I shoot Jupiter in CH4 with 2x2 binning at 20ms with my ASI290MM. Here, I used the same 20ms with an ASI462MC *without* binning. Seeing was average or slightly below. The RGB bayer filters are mostly transparent in the near infrared, but the operative word is mostly. I used the neutral-colored Moon to calibrate each of my infrared filters including my CH4 narrowband filter. I adjust the wRed and wBlue sliders such that the R, G, and B histograms have the same gain whileviewing the moon, and then use those same color balance settings when shooting Jupiter in Methane.
The color picture is decent, but the CH4 shows more cloud detail than anything I've recorded with an ASI290MM and 2x2 binning.
C14 + ES 2"2x focal extender, ZWO ADC and filters
FC Settings: L (visible) 6ms, Gain=329, CH4 20ms, Gain-500

Edited by banjo1000, 25 September 2021 - 03:03 AM.