Hey folks,
Finally an image I'm really proud of, after 4+ years in the hobby. On friday, the forecast was insane: no clouds from 9pm to 6am straight! I planned my session very carefully as I really wanted to take advantage of that night to work on one of my favourite subjects, the California Nebula. Definitely the most iconic "red" nebula to me. I just acquired my 1600MM Pro about a month ago, and after 4 nights of fiddling around and setting things up, I was ready to do something serious.
I really want to do an SHO version too, but waiting on the moon to leave so I can collect some quality Oiii.
All in all, this is 4h50mins of data :
33x300s Ha (2h45mins)
25x300s Sii (2h05mins)
Processed using Pixinsight and Photoshop. I do realize this more "dramatic" style is not for everyone and, but I've chosen to work in that style as I really like it. I'm pretty sure my next step is being able to correct my stars much better, and collect more data and avoid over sharpening the background. Let me know what you guys think and I'd love to hear some feedback!
Thanks!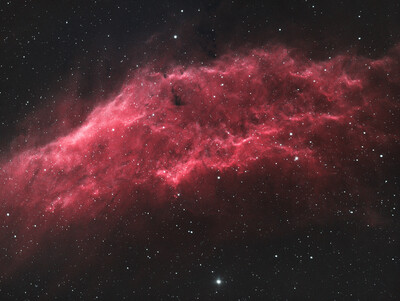 Edited by maximalz, 27 September 2021 - 10:06 AM.