Hi,
I decided to revisit this target with the gained experience in acquisition and processing.
This was processed under the motto: do not overcook it!
Since the raw data was already very colorful and saturated, I decided against further boosting the nebulosity and focused more on contrast and balance.
I wanted to keep the look natural and I think it came out great!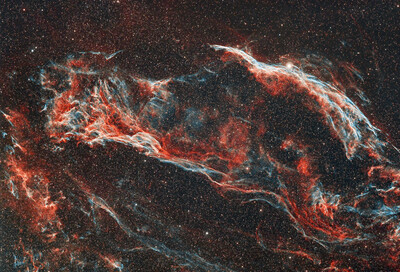 Capture date: September 22nd-24th, 2021
Location: Augsburg, Germany
Bortle class: 5-6
Lights: 126 @ 300s (Gain 100, -5°C)
Integration: 10h 30m
Darks: 60
Flats: 30 @ 10s
Flat Darks: 60
Scope: Sky-Watcher Esprit 100ED
Camera: ZWO ASI2600MC Pro
Guide scope: ZWO 30mm F4
Guide camera: ZWO ASI120MM Mini
Filter(s): Optolong L-eXtreme
Mount: Sky-Watcher EQ6-R Pro
Tripod: Sky-Watcher EQ6 Tripod
Control: ZWO ASIAIR Pro
Astrobin: https://www.astrobin.com/14aby4/
Edited by crackout, 28 September 2021 - 02:40 AM.