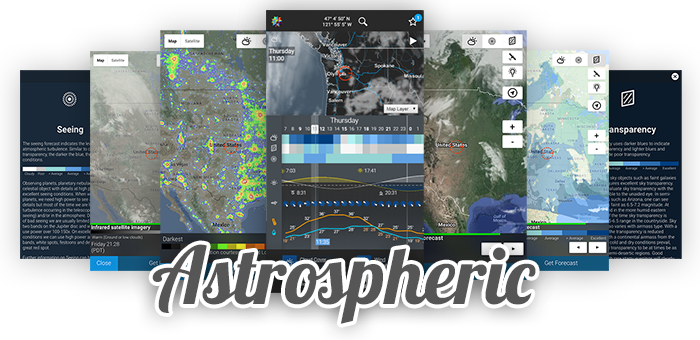 Advanced weather tools for North American astronomers
Website | Android App | iOS App
Hi folks,
With the recent cloud ensemble upgrade for Astrospheric Professional, I wanted remind everyone that qualifying astronomical societies and clubs can receive Astrospheric Professional for free. This means that all of your club/society members will be able to access all the features available in Astrospheric Professional, including
Weather Alerts
Unlimited Favorite locations
Cloud ensemble forecast (view 3 cloud models at the same time)
Long range and Cloud Ensemble map overlays
This functionality is delivered through a feature in Astrospheric called "Subspace", so your members will also receive those feature benefits as well.
For more information on how to get started check out the setup instructions or if you'd like, send me a mail - daniel (at) astrospheric.com. I'm happy to help get your club or society up and running.
Quite a few clubs are now receiving the free Astrospheric Professional entitlement and the feedback has been incredible. Not only are members really enjoying the tools, organizations now have another great incentive for joining members.
Clear Skies!
-Daniel