When I brought my Questar in for servicing, I had spoken to Jim Perkins about my wish for a few additional millimeters of focusing room in the EP so that I could experiment more with a filtered camera. I was thinking mostly about having an easy way to spot nebulae using a color camera and dual narrowband filter (like my IDAS LPS-V4 which is more permissive than the Optolong L-Extreme or OPT Triband). Jim explained that I could try a different finder lens (sourced from TeleVue) which would increase the finder focal length and leave enough room for a filtered eyepiece format camera, like the QHY 5iii-178 color cam I acquired with this use in mind.
The modification changes the EP so that I can't focus my Brandons if I screw them down, but I can still use the Brandons by using the two little screws on the universal 1.25" EP port (my scope is 2012 vintage). Not much of a sacrifice, and now I can set other EP's -- e.g. TV 20mm Plossl -- to focus with the finder and that long ignored Plossl is now getting lots of use.
The finder is not much in terms of aperture, I confirmed with Jim that the lens is 15mm of clear aperture, and the focal length is 112.5 per PixInsight. I am finding that the f/7.5 optics are not really fast enough for real EAA, and I've shot a few so-so wide nebula images with it. But after a little experimentation I decided to make a serious attempt at M31 which fits very nicely in the finder FOV. My PG3 tracked well for 4 hours under very good skies for me (SQM-L 18.7) on Sunday night, requiring 1 rechargeable battery change, but otherwise needing just a few adjustments, and I got this: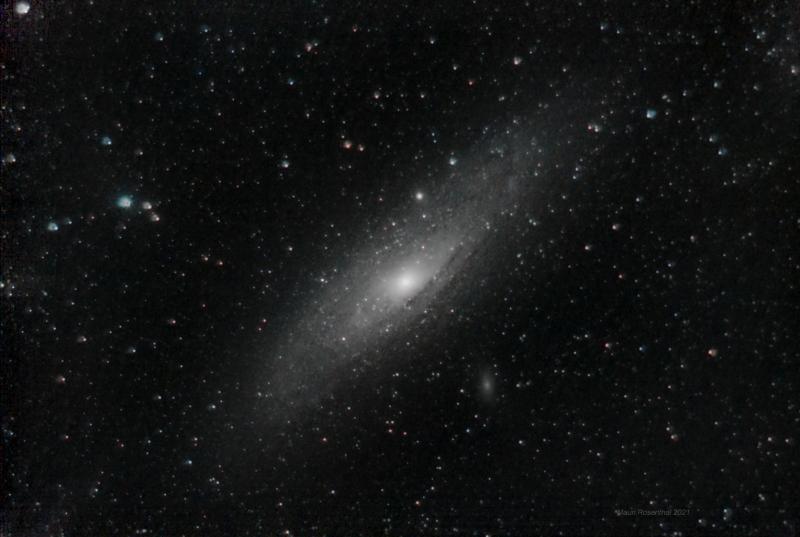 In this case the filter is an Astronomik CLS and the capture was done using 8 second exposures collected in SharpCap LiveStacks. I did a lot of PixInsight and ACDSee processing to get this as clean as it looks. The simple finder optics generate a lot of coma once you move from the center of the lens so this is not the best way to go after wider targets with a Q (piggybacking a better camera/lens combo for instance could work considerably better). But it did seem to work, and it's yet another way of taking advantage of the nice format of the Q sitting on a very capable fork mount drive.
Regards,
Mauri