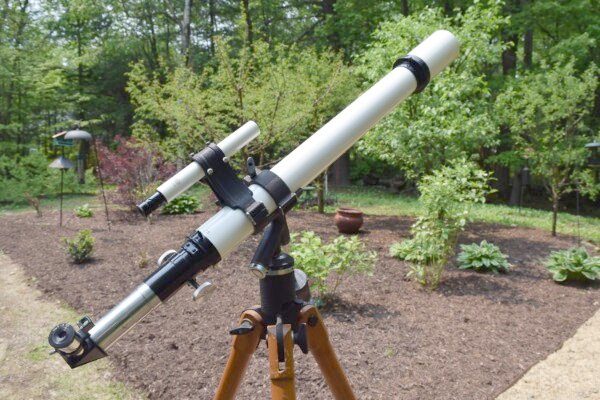 Longtime contributor and our resident expert on vintage 50mm refractors,CharlieB has offered up these images of his favorite classic to start our October thread. I had expected it to be the Swift in his avatar but instead he said this "Choosing my favorite scope is a tough one, but I guess it would have to be my 1956 Nippon Kogaku 50mm f/15. The optics are incredible and it's build quality is superb. The scope is in remarkably good condition. It doesn't look like it was used much before I picked it up. It had been sitting in the previous owner's basement for over twenty years after they had rescued it from the neighbor's trash. The original owners bought it for their son, but he lost interest in it, so it stayed in the case until they decided to toss it away. Since I bought it, I've managed to find the zenith prism, finder prism, 25mm Huygens eyepiece and recently came across the terrestrial erector prism with the 40mm eyepiece.
There aren't many of these still around - especially in this condition."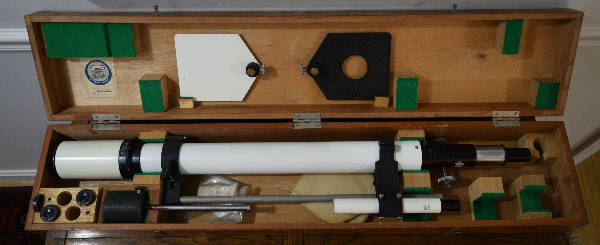 Thanks much Charlie,that's a beautiful classic!
The basic guideline for this thread is to list ads and auctions for classic/vintage scopes and associated accessories that others may be interested in. Do not post your own ads or the ads of your friends, this includes items you may be trying to sell for someone else. We request that you do not post photos from ads. If you must have some reference to a photo in the post, post a link to the photo, not the photo itself. Concentrate on the item for sale, and not the seller.
Please post a live link to the item. Do not post "PM me for the link".Short discussions can take place about the items listed. When quoting a post, edit the quoted post to include only the part you are replying to. Do not post the entire ad text, or large blocks of it, without permission from the author. Keep on topic, please!
Buyer Beware- CN is not responsible for any of the ads or auctions posted here or their content. There are some scams floating around, so do your homework before pursuing any ad.
and this note from the moderators
Let's remember everybody, there's no one place that has all the best-used scope finds just as there's no one place that never has anything. All have something. No need to beat subjective matter, whatever the topic, into the ground. For the sake of all of us who love the classic forum, please keep moving the threads forward. Remember that many of your fellow forum members are already vintage themselves. Instead of restating your opinions over and over, consider sharing something new, insightful, or otherwise constructive to the topic at hand.