While names to lunar features are generally asigned to deceased scientist or astronomers from decades, if not hundreds, of years ago: crater's Marvin (after Ursula Marvin - an American planetary geologist from 1921-2018), and Spudis (after Paul D Spudis - an American planetary geologist from 1952-2018) must surely be unique in recognition of the recent passings of such lunar researchers.
Both craters are situated very near the South Pole region of the Moon (making them difficult to observe), however, the below gives an approximate view to their location.
John Moore
Image: Credit LROC

An update on better views of the Marvin and Spudis craters follows.
The image below shows an Earth-based, radar view - obtained by both the Arecibo Observatory and Green Bank Telescope, while the second bottom image is a topographic view - produced by the Lunar Orbiter Laser Altimeter (LOLA) instrument onboard the Lunar Reconnaissance Orbiter currently orbiting the Moon.
John Moore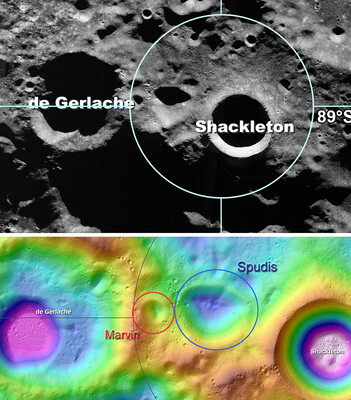 Edited by John_Moore, 01 October 2021 - 09:47 AM.