I found an RV6 quite literally within walking distance from my house being given away for free on Facebook Marketplace as "for parts/not working". The owner was a bit of a tinkerer, having upgraded his Monolux 60mm to a 1.25" focuser (he's keeping that one). He also happened to modify this RV6 with an Edmund 2" focuser (which he installed incorrectly), resulting in the focuser hole being bored out too much to install an original U7 focuser ever again, if I even had one. Given that this is also my seventh RV6 and the fifth of them to need restoration work I've also gotten bored of doing the exact same restoration job over... and over.... and over again. So I decided to do something a little different and paint this one hot pink. Or at least that's what it said on the can, as it ended up more of a bright red with a tinge of pink. I also found some steel end rings from another project, painted them black, and stuck them on the ends of the OTA to hide some of the severe damage to the Bakelite and prevent future problems.
Is this sacrilege? Probably, but so is what the previous owner did to the scope. Wish I'd taken "before" pics.
It's got two layers of clear coat, and arguably looks a lot better in person, or under good lighting, which I don't have.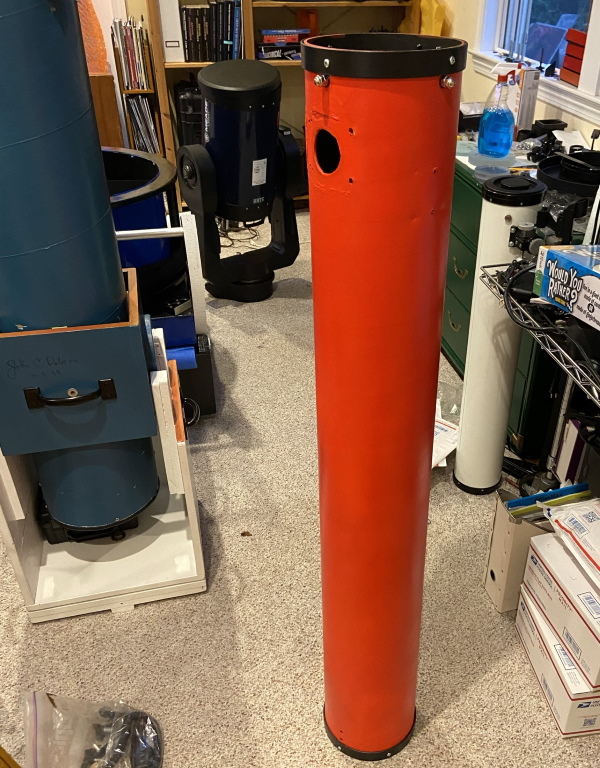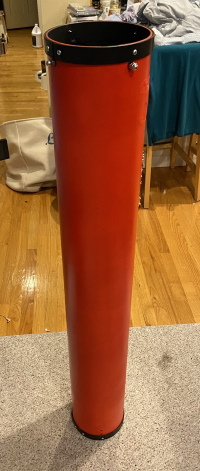 I have a GSO focuser that should be able to fit and I'll fix the mount up tomorrow while I work on mirror grinding stands. The whole thing is quite rusty but has setting circles and the CRITERION nameplate so I'm guessing early 60s?
The optics in the scope look lovely, with just some faint scratches to the primary. The secondary was missing the shim that keeps it steady in the holder however.
Edited by Augustus, 08 October 2021 - 07:36 PM.