Hello all,
every now and then I read warnings that Andromeda is a difficult target. You should take images with different exposure times to save the faint details, the core is very bright and likely saturated and so on. I'd like to share a very simple approach. I want only one sub exposure time and simply take plenty of them. The sub length supposed to be as long as possible but short enough to avoid saturation. Surprising fact: the smaller M32 comes with a brighter core than the large M31. So this is the limiting factor. There are a few bright stars around. Depending on the FOV you probably have the mag 4.5 nu Andromedae in the frame (upper right corner in my image). It is a deep blue B5V star. It is visible to the naked eye so we have to accept saturation here. Using my 65mm quad at f/6.5 and an unmodded Canon EOS 800D (T7i) a 3 minute sub exposure time leads to these level readings:
M31 core: 0.43
M32 core: 0.65
----
EDIT: ISO 400 was used.
----
In both cases the red channel happened to be the brightest. Saturation is near 1.0 (it is not exactly 1.0, nu And reads 0.976). Are there any other saturated stars? Yes, there are 35 saturated stars out of 31015 stars that PixInsight detects in my stack. That is about 1 in a thousand. Seems acceptable to me. Here is a map of the saturated stars:

Now that the nights are getting longer I was able to capture 160 subs = 8 hours of data over a 9 hour period. The missing hour is due to meridian flip and checking focus twice and a few seconds for dither. I dithered every sub. As expected the early evening and the early morning shots when the object was lower in the sky are a bit blurred. After sorting out all subs with an FWHM larger than 4 arcseconds (that is 2.2 pixels at 1.814 arcsec/pix) there were 120 subs equals exactly 6 hours left for the stack. And this is all the magic. No filters, no different exposure times, no luminance, no modded camera, all dead simple. And this is the result: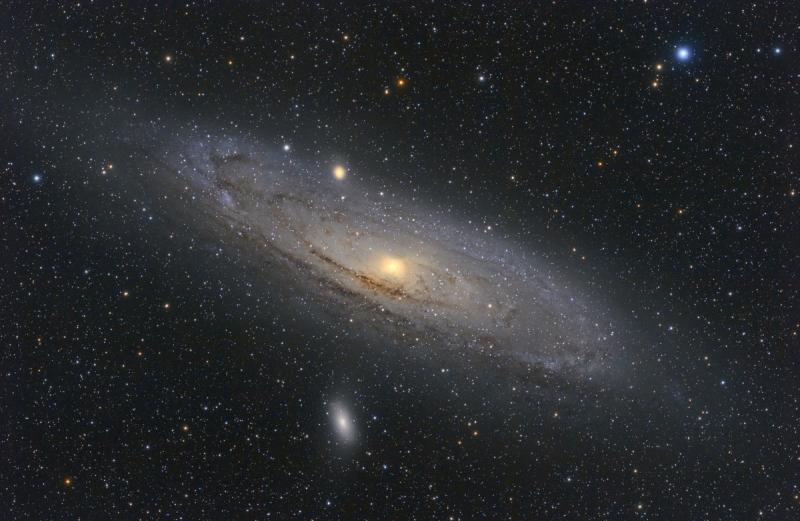 link to full res (15MB): https://elf-of-lothl...1_2021_full.jpg
My sky background is approx. Bortle 4. My conclusion is that Andromeda is not as demanding as sometimes told as far as image acquisition is concerned. Sure, my image does not show all the faint details. My original plan was to capture two nights and go with 10h at least but the clouds did not offer this opportunity. As the full moon is close I decided to process the 6h and I am not disappointed.
C&C welcome. Anyone is invited to post his or her image and point out what can be done better without making matters too complicated. Maybe you can make this thread kind of a Andromeda-how-to. Take my considerations as a starting point for a _friendly_ discussion, please!
CS
the Elf
Edited by the Elf, 13 October 2021 - 01:21 PM.