Wait before working.

Looking at your lap... It needs to be trimmed.

I am marking some things on your image of the lap to show how to improve it when you trim.

Not sure about the temperature. The roughness, which isn't all that bad, is almost certainly from working with the lap that needs trimming.

Don't trim until I post the marked up picture.

There is a small section of channel that is about the right depth and width. I'll mark that area with a green circle. The idea will be that when trimming you try to make all the channels as much like that all over the lap.

You could be only a few short (~5 minute) sessions from a very good parabola.

As for heating the lap and mirror, I don't do that but I work in a temperature controlled space.

I think for one session you should continue without warming the lap and mirror. After trimming the lap rinse the pitch chips off and apply slurry and press.

How much have you been pressing until now? How much work have you done since the last time you trimmed the lap? I can get a pretty good idea how hard the pitch is from that. For now I will say that you have a pretty good surface so the pitch is pretty good. With the lap trimmed it should work better.

Picture coming... not to long from now.
I have had issues with the trimming and rechanneling of the lap, so I try to avoid it. I reckon that my pich is a little on the hard side, and hence the problems that I see due to trimming and/or rechanneling. Temperatures have gone down a bit so perhaps what was a good smooth lap a few weeks back is not as smooth.
Here's a photo of what happened on the mirror the last to last time I trimmed the lap. This was on 2nd Oct. I have done trimming and rechanneling once more after that. Not quite sure what I did to avoid these sleeks.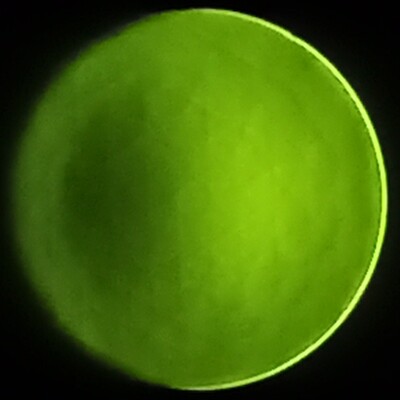 Your tester look nice.

And very practical... you can polish your shoes while you test. :-)
Hahaha. I quit wearing leather and hence won't need it for polishing unless I buy synthetic...I am too lazy so I just wear sneakers with suit.