There was a bit of discussion recently about framerates, and at my last outing I had a quick go at capturing at 4 different framerates on Jupiter. The seeing at the time was not particularly good, the focus was not as consistant as I normally like, with the planet going in and out of focus quite readily. Collimation was fine and I had the scope outside for a couple of hours before imaging, so I'm blaming the atmospherics. It got better later in the night, however this was a good test of the effect of frame rate during less than ideal conditions.
All images were taken from 3 minute videos run one after the other (after a quick focus check) with the the best 33% stacked from each video, processed identically in AS!3, Registax and Photoshop. Focus point was checked before each capture, the focus point was more difficult to confirm for the 200 fps capture which meant it took more time to find and so the gap between the frames in the animation below is longer.
There is a noticeable drop in quality for the 30 fps capture, the best is possibly the 100 fps capture but it may well just be the variable seeing at the time. The issues with the atmosphere not being stable when I did these captures may account for the drop in quality for the lower framerate. It's difficult to see the differences at 100% captured size, the link shows the images at 150% captured size (taken from a 50% reduction in size after 3x drizzle in AS!3).
Animated png at 100% captured size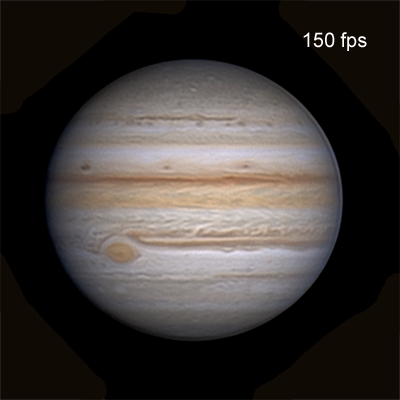 Link to 150% capture size animation.
https://www.cloudyni...6445_128080.png
Celestron Evolution C9.25" SCT, 2.5x TV PowerMate and ASI224MC.
Andrew
Edited by Tulloch, 15 October 2021 - 05:59 PM.