Objective
Test SharpCap's autofocus accuracy by using Autostakkert's quality analysis metric.
Method
Critical focus was found using the Fourier Detail focus assist method in SharpCap. A course sweep with a step size of 20 steps performed and then re-sampled with a step size of 10 steps (this was not a necessary part of the procedure; I just wanted to verify the repeatability and look at the calculated critical focus position for the two steps sizes, which were nearly identical). Once critical focus was located, the Focus Motor was indexed to it, and then in-focused 40 steps. Capture was started, and the Focus Motor was indexed 10 steps out every 30 seconds, for a total of 9 samples, 4 inside focus, one at critical, and 4 outside focus. The ser file was then processed in Autostakkert, first to determine the quality graph for the entire video, and then chunked into 9 56% stacks using the Expand function. The 9 stacks were processed identically in Astra Image, and an animated gif was created.
Results
I was already losing the good seeing. Focusing with autofocus is like manual focusing; better seeing makes it easier while poorer seeing makes it harder. Nevertheless, in the same conditions I find autofocusing to be much easier and produces better results (for me; your mileage may vary if you are a steely-eyed missile man with years of experience manually focusing).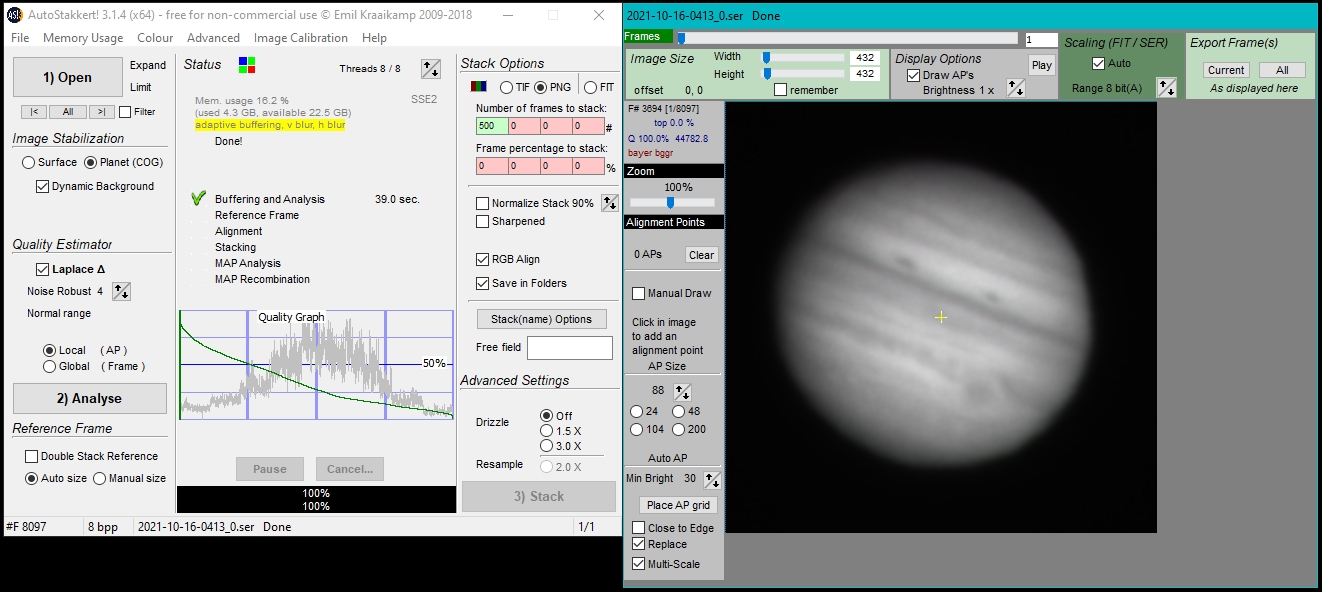 The results speak for themselves; the best segment is clearly the middle chunk, which is the chunk at the critical focus as determined by SharpCap. The chunk immediately after it is a pretty close second. The chunk before critical focus is poorer than the chunk after it, and this asymmetry perhaps indicates that I was not quite on critical focus. However, the fact that the focus quality graph in SharpCap is parabolic and the frame quality graph in Autostakkert is Gaussian argues that "close enough" is likely good enough (mathematically the slope of both graphs is zero at critical focus, so a small error does not produce much penalty).
Here's the animated gif created from the recording. The frame at SharpCap's critical focus is denoted with a red border. The animation bounces from inside to outside focus and back. Click to see the full sized animation.
Conclusion
The Celestron Focus Motor combined with SharpCap was able to accurately find critical focus.