The Nikon 300mm f/4 PF lens is an expensive lens and probably not one that should be bought specifically for astrophotography. However, those who own it for terrestrial photography may well be tempted to use it for Astro work. For Astro it has many strengths: light weight, exceptionally sharp in the frame centre and with very low chromatic aberration (a consequence of the Phase Fresnel design). It has a known issue with flare associated with bright light sources – not usually an issue for terrestrial photography but easily seen for bright stars. In use for astrophotography I've noted that the flare issue is exacerbated when used wide open because the flare can be distractingly asymmetric on stars away from the centre.
I've recently bought an Optolong L-Extreme dual-band filter for use with a ZWO AI2600MC camera. It occurred to me that the 300mm PF lens could work very well (i.e. minimal flare problem) in this set-up for wide field imaging of emission nebulas with the L-Extreme. This is because the filter attenuates the stars but not the nebula emissions. In practice I think that this method has worked well, but to achieve this I've had to overcome a number of issues...
Handling
A problem is that the aperture of the lens can't be set without a Nikon camera. Worse, some Nikon cameras change the aperture when the camera is powered down. In practice I set the aperture to f/4 (on a Nikon Z50) and then physically disconnect the lens before powering down the camera. To change the effective aperture I then use stepdown rings on the front of the lens (see below).
The manual focus ring on the lens is far too sensitive for fine adjustments. When using a Bahtinov mask to set the focus point it is easy to see that it is physically close to impossible to approach the focus point in a controlled manner. My method is hit and miss: keep on adjusting the focus back and forth and sooner or later you'll be lucky and the focus will be correct.
Mechanical
An adapter is needed to connect the lens to the ZWO camera. I use a ZWO adapter ("New Nikon to T2 Adapter suitable for ASI Cameras"). The filter can fit inside this adapter. However, as the L-Extreme has a thickness of 1.8mm the optical path length of the adapter needs to be increased by 1.8/3 mm i.e. 0.6mm. I used Baader precision spacers to achieve approximately 0.6mm but found that a 1.0mm spacer gave noticeably better star shapes than a 0.5mm spacer.
Optics
When used at f/4 and with the L-Extreme the bright stars still have some visible asymmetric flare, although much less than without the filter. However, when using a 77 to 62mm step down ring (which effectively converts it to an f/4.8 system) the flares are much less prominent. In the image below the brightest star is 52 Cyg (Mag 4.2) and even this, while not perfectly shaped, has little flare.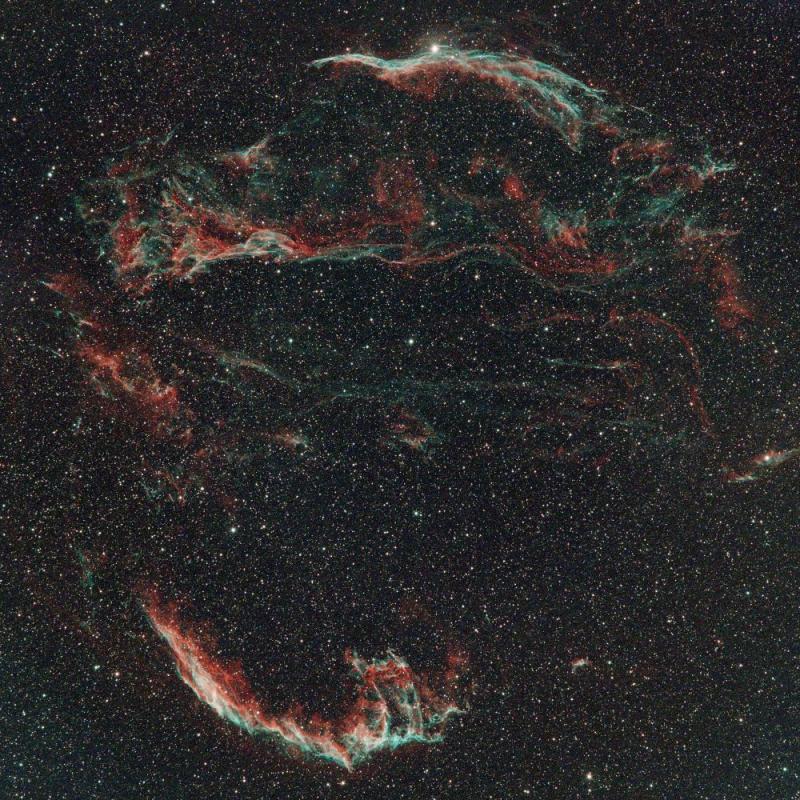 The image was taken in the presence of a threequarter moon; 72 - 62mm step down ring, 47 x 120s exposures at gain 100, -5oC. Processing of the integrated image in Pixinsight: AutomaticBackgroundExtraction, PhotometricColorCalibration (Broadband), Histogram Transformation. It was cropped to the central area (4000 x 4000 pixels) and then down sampled to 1000 x 1000 for display on CN.
Andy