Or more aptly, the in-defense-of-mono thread. With the amazing cameras and filters out these days, it is a marvel what people can do in full technicolor. I submit, however, that when viewing nebular objects especially in mono, it is easier for my eyes to discern fine structure. Also, for some weird reason, it reminds me more of my visual astronomy days. Call it nostalgia.
I will offer up a couple of examples here, but I'd like to spark some interest in others' contributions if possible. I doubt there will be enough people interested in drab old mono to make it a sticky, but let's see what people have done!
Open kimono: part of my interest in mono is because of light pollution, color is frustrating to process and pale in comparison to my uncombined mono/HA.
IC 5146 (cocoon nebula)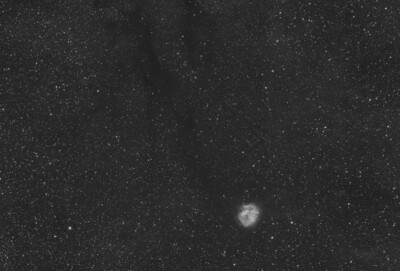 NGC 7000 (North America Nebula)