After a few fairly lively threads on StarTools, I thought I would give it a try on one of my own images. I'll admit that I'm not a huge fan for how it stretches the data, but I've been interested in a few of the tools in the software for awhile, such as deconvolution and star repair. That's something that's missing in my APP + GIMP workflow, or rather I could never get deconvolution in GIMP working the way I wanted.
I shot 62 10-minute light frames of IC1805 this past weekend with my mono-converted Canon 60D, Roki 135mm lens, iExos-100, and Astronomik 6-nm H-a clip filter. All driven by astroberry server, which is working like a champ with my gear now that I've upgraded the RPi from a 2gb model to 8gb. No more crashes with scheduled activities! Stacked with 30 darks, 30 flats, 30 dark flats, and 30 bias frames to scale the darks in Astro Pixel Processor. I did a 2X drizzle to see how much resolution I could get with the little telephoto lens. Slight crop to remove stacking artifacts.
At this point I brought it into StarTools and did a gentle stretch with Filmdev, bin/crop, deconvolution, noise reduction, and star shrink/repair. Not sure of all the correct terms in this program as I've been using it for all of 5 minutes now...
Have to say, I'm pretty darn impressed with how it handled the narrowband data. Here's the cropped frame... still good resolution after binning, at 3300 x 3150 px.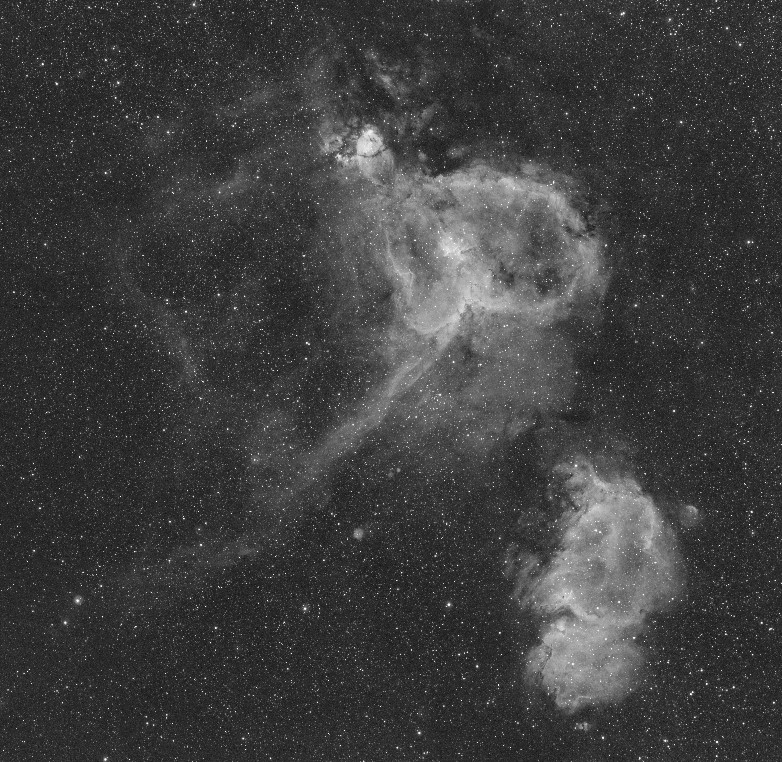 And just for a little sizzle, here's a 100% scale of the center of the nebula. Forum compression kind of kills it, but it still looks pretty sexy considering it was shot with a 135mm lens.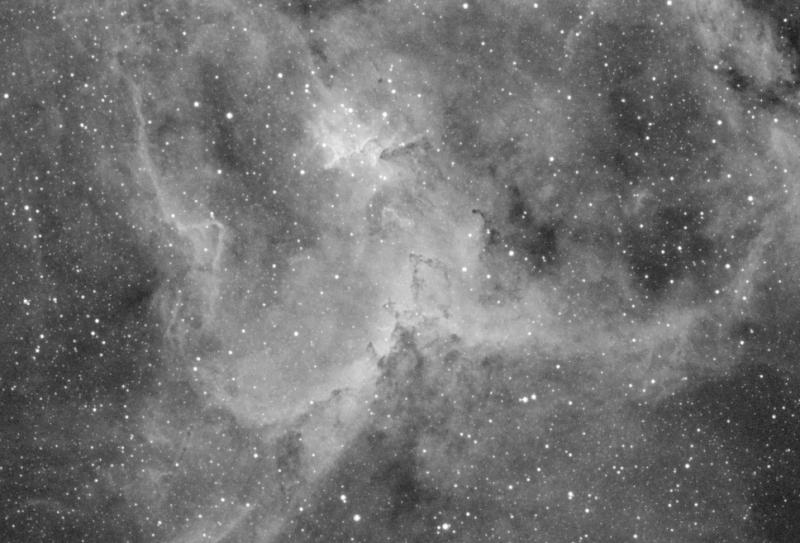 I made a bit of a mess of the stars with some ringing artifacts, and wasn't sure if there was a way to improve the halos from the narrowband filter. To my taste, I'd like to bring this into a terrestrial editing program for some slight contrast tweaks via curves, but I'm pretty happy with this as-is. It's certainly not going to replace the other tools I use in post processing, but I'll be purchasing a license for this software, just to add to the overall toolbox.
It would be great to see what other more experienced users could do with the data set, or with any other software package just for the fun of it. The more the merrier!
Drizzled FITS file:
https://drive.google...iew?usp=sharing