I've been trying to come up with a game to help me learn to identify, visually, the objects in the Messier Catalog. Would you help me test it please? There's nothing to install and you can play it on any device with a web browser. I think I've settled on setting it up with 10 levels (11 objects in each level). The sequence is designed to feature some of the more spectacular objects first, based on my theory that they will be more recognizable. It's free of charge to play - and you don't even have to register. It moves as fast as you want it to move. I've completed level 1 - I think - but you be the judge. It should only take you 2 minutes to play it and you're welcome to tackle it multiple times until you make a perfect score. (You'll have to answer "no" when it recognizes you - then choose a new nickname.) You'll also have the chance to copy and save a link so that, after the 3 days, you can come back and see how you did. The top 3 players will be recognized "on the podium." (This game uses the Kahoot framework - so you'll likely recognize it.)
In your feedback, please be gentle (haha). I'm probably a closet low-self-esteem guy. But, of course, our goal is to make it better so -- would you give constructive and critical input on my first go at it? Remember, this is a beta test.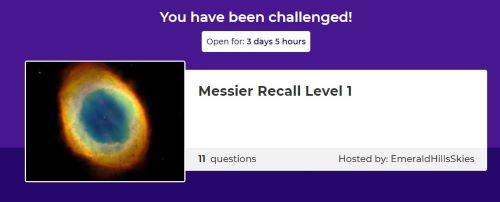 https://kahoot.it/ch...0_1634898782003
Your mission, if you decide to accept it, would be to play the game, try to learn to identify the objects (I'm guessing everybody here will ace it first time), and report back here in this thread - all during the next 3 days and 5 hours from now. The goal is to make the game better. Would you try it please?
Remember, each successive level will be a notch higher in difficulty. No matter what level of experience, as the game progresses, we hope to make it challenging.
Either way, thanks for your help! Remember - you only have 3 days to try it.
Doug