Hi CloudyNights,
I would be most grateful for some help. I image from the suburbs of Greater London, with a Bortle zone of 7, sky quality estimate of 18.41.
I should be doing some narrowband imaging with a telescope, small refractors and a 150mm Newtonian reflector later when I have got my setups correct and my coma correctors, and collimation all correct....
I just acquired a modded Canon 100D (from JWT cameras, Holland) earlier this year. I have got a Svbony 7nm H-alpha 2 inch filter. I mount this on top of my Canon 50mm lens (I will get adapters so that I can use it for longer focal length lenses).
I am just playing with the Canon and h-alpha at the moment, trying to learn more about h-alpha channels and image processing and combination.
I have got about 25 images of the Cygnus region near Deneb tonight. I took 90 sec exposures at ISO 800 and then took bias and dark frames (no flat frames yet).
Unfortunately, some of the latter frames there was dew on the H-alpha filter.
I get a very red image like this image 1; but the red channel looks like this (not much processing here).
Am I supposed to extract the Red channel from the Raw file of each sub, and then stack the result or do I just stack the whole unprocessed RAW file and then extract the Red channel from the stacked result ??
Can I just process the Red channel of the Raw file ?? What program would be best for this. I have DSS, no dedicated astro imaging software like PixInsight or APP, or Nebulosity.
I am not sure if my subs is any good. I read some posts saying it is a waste of time to image with a modded dSLR and narrowband filters.
Have I wasted so much money then ??
Imaging setup: Vixen Polarie tracker polar aligned. Canon 50mm F1.4 lens - at F2.5 ISO800, 90 sec exposures. H-alpha 2 inch filter (Svbony), 7nm bandwidth.
Thanks a lot.
Magnus.
Image 1 (jpg of original, saved as low quality jpeg file) Image 2 (red channel of RAW file, resized down to 30percent)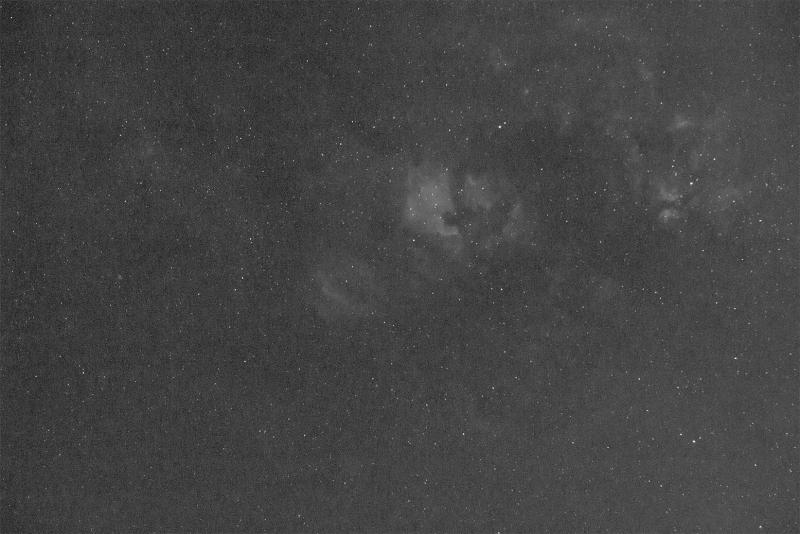 Edited by IR656nm, 25 October 2021 - 04:57 PM.