Telescope: LXD75 SC8 @ f/6.3, LX65 mount, altaz mode
Camera: Baader modified Canon 600D, interval timer
Filter: GSO IR Blocking Filter
Guide scope: None
Exposure: 38x10sec, ISO 1600, saved as RAW
Darks: Internal (Long Exposure Noise Reduction On)
Flats: 32x1/25sec, Tee shirt flats taken at dusk
Average Light Pollution: Red zone, Bortle 8, poor transparency, moonlight
Lensed Sky Quality Meter: 18.3
Stacking: Mean with a 1-sigma clip.
White Balance: Nebulosity Automatic
Software: Deep Sky Stacker, Nebulosity, Photoshop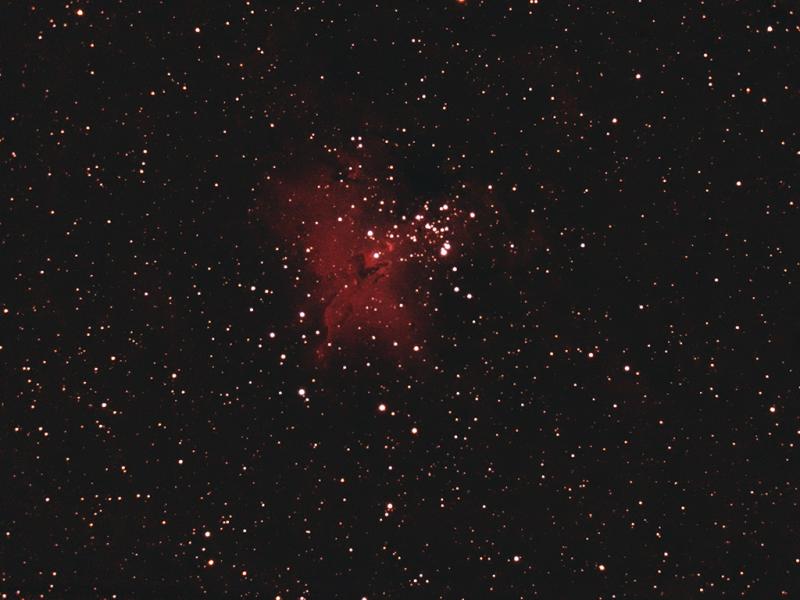 M16 is actually the cluster in the upper right section of the nebula. The nebula is very subtle and can be difficult to see visually, though it shows well under dark skies. The name, the Eagle Nebula, comes from the dark lanes in the middle which resembles an eagle grasping a fish. These dust lanes are also the famous 'pillars of creation' imaged by the Hubble Space Telescope. The nebula is a beautiful expanse of interstellar hydrogen set aglow from young stars embedded within it. M16 lies in the Sagittarius-Carina arm of the Milky Way, the next arm inwards from ours towards the core of our galaxy, so you are looking across the gap between adjacent spiral arms.
This is one of a series of images that I have been taking to explore using relatively simple equipment and techniques. This is a nice example of going after a relatively challenging target under challenging conditions.