My home-made 8-inch reflector has been with me for some 54 years. It was a labor of love grinding, polishing and figuring its fast (for the 1960s) f/4.8 mirror. I spent more than 200 hours just in figuring. It was meant to be a wide, rich-field telescope (RFT), with short focal length optics. With an old war-surplus 32mm Erfle eyepiece it gave around 1.8° FOV - not bad for a 1-1/4 inch format.
Here's the RFT on its original mount back in 1967.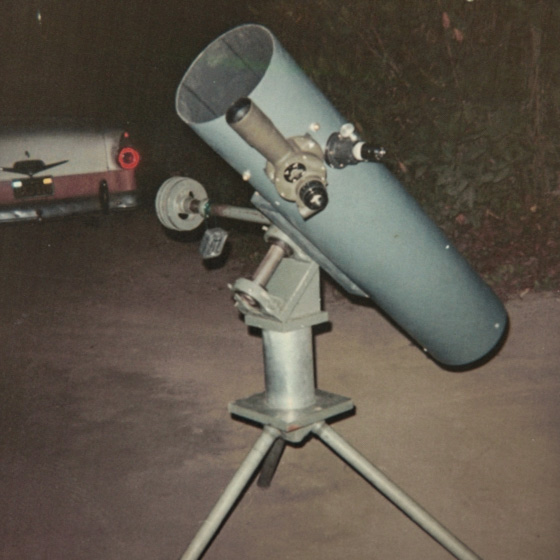 The mount shown is an early iteration of GEM that was featured in recent thread:
In the above photo the mount was just a basic polar axis with pillow-block bearings and declination axis with babbit bearing. At this stage it was not motorized nor adjustable for latitude. The telescope has a fiberglass tube made by a friend. It is heavy but functional.
The finder is an old military surplus M-17 tank sight, with a manufacture date of 1943. That 8X50 RACI finder is the oldest piece of the entire setup, beating my own 75 years. But it cost 16 big 1967 dollars from Edmund Scientific. Back then that company was the source for many ATM supplies like mirror-grinding kits. With such a kit they even supplied a set of lenses, for those wanting to fashion their own Ramsden eyepiece.
Now in late 2021 the primary & secondary mirrors just came back from getting new Beral coatings. The Clausing family has served in that capacity for the life of my RFT. While my 10-inch reflector has its mirror out for re-coating, I have been using the 8-inch RFT as my grab-n-go telescope. Well, it's not exactly quick setup. But is a different experience compared to my pier mounted Losmandy G-11 with SCT/APO rig or 10-inch push-to reflector. As I get older I really appreciate a go-to or push-to (DSC) setup. I have considered adding encoders on the RFT for a DSC setup. But that seems a bit out of character for a 1967 vintage telescope.
So what to do? Even with that old RACI finder, I don't relish the thought of bending down to sight along one of its straight edges to point at the area of interest in the night sky. So here comes my latest addition - a new green laser. This was strapped along side of the elbow telescope with some wire ties and a block of wood.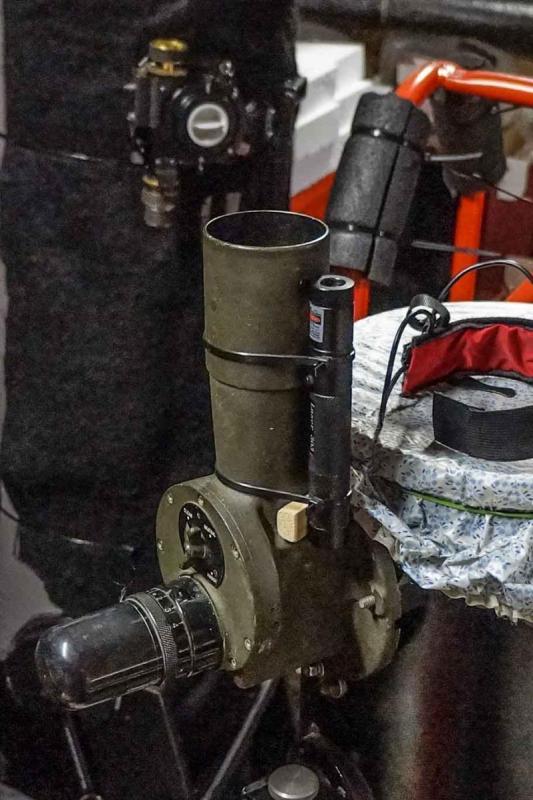 When I first tried out this arrangement, it worked fine - but only for a while. The cool nighttime temperature quickly lowered the battery voltage, causing a weak laser beam. This made it essentially unusable. My solution was to strap a dew heater strip around laser and finder tube.
Also I have been working on improving the thermal performance of my reflectors. The RFT will initially be using a small 40 mm fan to help with cool-down and boundary layer dispersion. This will require 12-volts to power both the fan and the dew-heater controller.
But here is what I've come up with for powering the telescope. The loads are:
Old Lumicon Drive corrector to supply 110VAC to power the synchronous RA drive motor
Ventilation fan - 12 VDC
Dew-heater controller - 12 VDC
The drive corrector can be powered by a GFI mains electrical outlet at my garden observing site. But I would like to avoid an electrical cord under foot to trip over. In the past I've placed a small rubber-backed rug over the cord. Another option would be a small battery pack power supply. One that I have used on my 10-inch Dob is a TalentCell 12V LiFePO4 Battery Pack. This Lithium-Iron-Phosphate battery chemistry is reputed to be of longer cycle life than a regular lithium battery and much lighter than lead-acid batteries. It holds between 12.5 and 13.0 volts for 80% of its discharge capacity. The 12- and 5-volt outputs of the battery pack are handy. On cold nights the latter can keep my iPad Mini running SkySafari.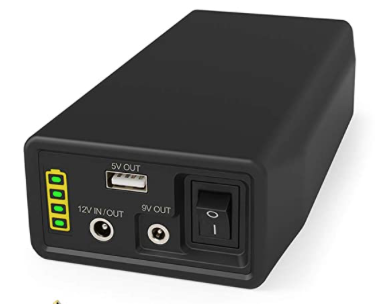 The battery pack's 12-volt output can power the drive corrector via its 12-volt input. A single 12-volt power lead running up the mount to the telescope can power the fan and dew heater controller. So the battery pack and drive corrector can reside at the base of the mount. The dew heater controller is light enough that it can reside on the telescope itself. This will avoid having the controller down below with a second cable running up to the telescope.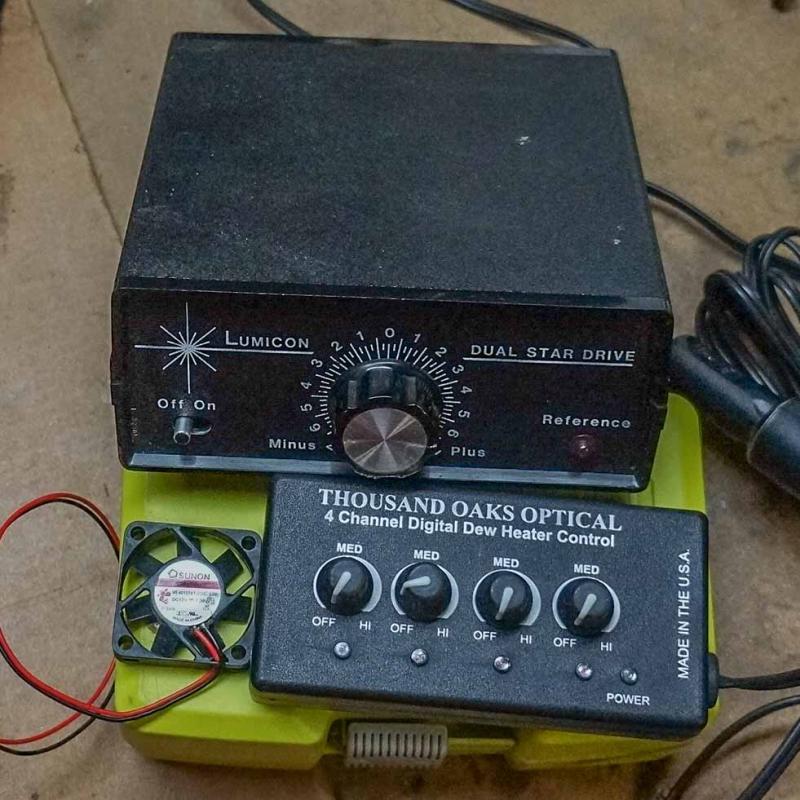 The above photo shows the fan, drive corrector and dew heater controller. This arrangement will allow for using my old/new 8-inch RFT both at home and at a remote site.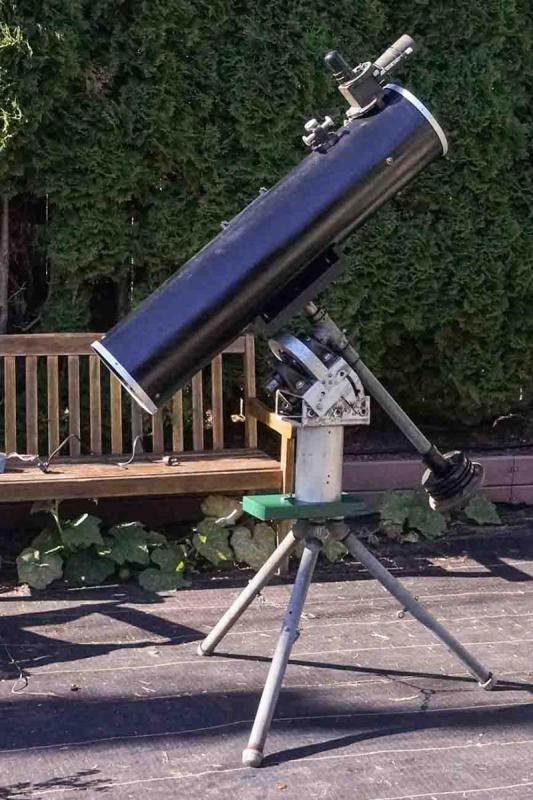 Old & New 8-inch RFT - 1967 to 2021
Some recent viewing of Jupiter with new mirror coatings reminds me of the excellent optics of my old RFT. The transparency was terrible with thickening clouds. But the seeing was excellent, with observations captured using a digital voice recorder.
October 18, 2021, Ocean Observatory, Coos Bay, Oregon:
220X - 11mm Nagler T6 + 2-1/2X Powermate
Seeing is quite good now, transparency is poor and getting worse, this view is just spectacular!, two moons on each side, there is a shadow in transit (Io's), this is within the equatorial zone close to the dimmer SEB; I got my new observing chair to have a more comfortable extended view, @ 220X this is pretty darn good seeing, SEB is dimmer than the NEB and narrower, the moon shadow is just N of the SEB approaching the central meridian, in the E Zone there is another thin belt adjacent to the NEB, in other words the NEB is split (the belt inside the EZ is dimmer), there is another belt further N from the NEB with a vague gray gap before reaching the gray polar zone, something similar to that is between the SEB and the polar zone, but this is less distinct, this is quite the spectacular view, by now the moon shadow has moved almost to the central meridian, this has to be one of the nicest views I've had of Jupiter in a long time, this little 8-inch telescope is a real performer, the NEB might have a little lumpiness along its darker part, the vague split is toward the equator, with naked eye it is apparent there is a thin layer of clouds in the sky in front of Jupiter, its general color is kind of grey-brown, with the brown being prominent in the eqatorial region, the brightest part of the disc is the light zone that is adjacent to the SEB on its S side, the EZ is lighter next to the SB compared to the area next to the NEB, colors are pretty subdued due to the cloud cover, it is really nice watching the moon shadow move towards transit, now I'm seeing a little structure in the SEB, despite Jupiter getting dimmer as cloud cover increases the seeing is really solid
Clear Skies,
Russ
Edited by Rustler46, 06 November 2021 - 08:02 PM.