Hello dear ATMers,
I'll be tackling a new project in the next days, weeks, and it will of course span to months like any project : grinding and polishing of a 85mm f/15 littrow doublet, with blanks that David (davidc135 here) sent me in exchange for a silicone pitch mold. It seems a great winter project, not taking too much space and doable quite quietly compared to a bigger mirror. Thanks again David.
Quoting David :
> The flint R3 is used to grind the crown surfaces R1 and R2 whose RoC are all .4 of the f.l of the objective. A glass tool is required for plane R4.
Thicknesses of each lens don't matter. Wedge may be less than .025mm but even that doesn't need to matter precisely if the cell is supplied with centering grub screws. With these the objective can also be adjusted to correct atmospheric dispersion if wished.
And Wikipedia :
> Le doublet Littrow consiste en une lentille crown équiconvexe (R1=R2), suivie d'une lentille flint avec R3=-R2 et la dernière face plate. Ce doublet peut produire une image fantôme entre R2 et R3 en raison des rayons identiques. Il peut produire également une image fantôme entre le rayon infini R4 et le bout du télescope.
I have three pieces of glass :
- one white
- one with a deeper yellow tint
- and a blue one (a float glass tool).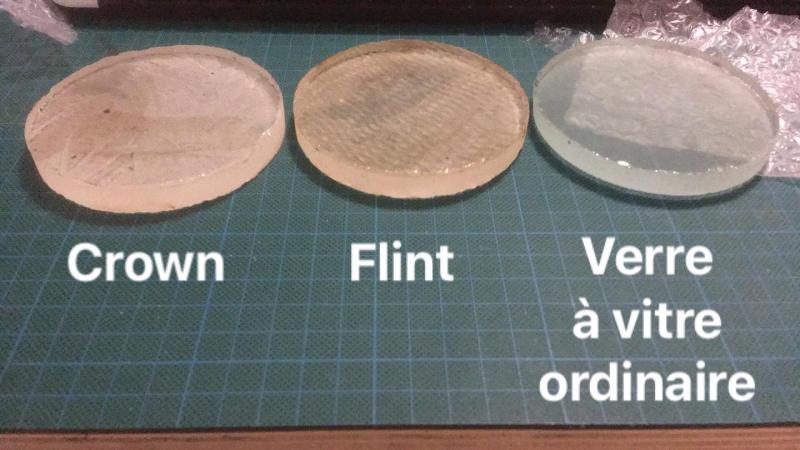 (The picture reads crown/flint/ordinary plate glass)
I guess that the white glass is the crown element, the yellower is the flint, and the blue will help plane R4.
I have a spherometer and will build a wedge-checker from plans I've seen online.
I also have an 1966 ukrainian flat found on Ebay that is supposedly flat enough if we trust its handwritten certificate.
My assumptions :
- I will use the flint element to grind both surfaces of the crown element, so I should try to avoid thinning it too much, and alternate working R1 and R2
- R3 can be figured to a sphere of the correct ROC like a telescope mirror with Foucault / Ronchi / Bath tests, then used for interference testing of the R1 & R2 surfaces
- R4 must be made like a flat, so the A/B/C method described in the books should work, with surface A being R4, surface B being the front of the float glass tool, and surface C being the back of the float glass tool.
- I should be able to test R4 against my known good flat
- The grinding experience of the unfinished lens I started with a friend (he has no time to continue at the moment) should allow me to control edge chipping to a minimum.
It seems logical to the newbie that I am that I should work all surfaces to the same grit before moving to a finer one, but maybe this isn't the way ?
I wish you clear skies,
Lucas
Edited by chantepierre, 23 November 2021 - 04:06 PM.