Think this type of question has probably been asked hundreds of times but need a little reassurance this is the right way to go. Will be getting a used C9.25 SCT in December which I will use for planetary but will also want to use for DSO with the 0.63 reducer.
Have in mind the following imaging train: (before anyone asks am using the ZWO ASI183MM pro because there is no budget yet for a different camera+filters+filterwheel)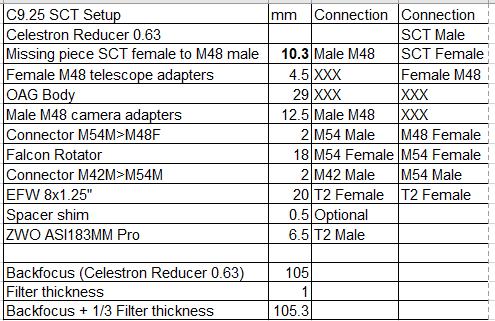 I can remove the 0.5mm shim as its purely decorative really to align the camera with filterwheel. This would mean the missing piece of the puzzle would be the connection from reducer to OAG would probably be an 11mm SCT to M48 adapter putting me 0.2mm over optimal backfocus.
Am planning on using the ASI174MM mini as a guidecamera, this however brings me to the next challenge which extension pieces are needed to get it parfocal with the main camera. I estimate approx 76mm from prism to main camera so the same for the guidecam.
Which gives me 76mm - 8.5mm (guidecam sensor depth) - 10mm Prism stalk (very unsure about this) so a 57.5 mm extension needed. Also about 8mm to work with on the adjustable focuser on OAG. but a 50mm or 60mm extension feels long to me.
Any help/insights or experiences are welcome