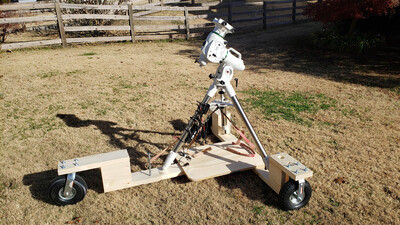 Having seen many DIY solutions for moving the heavy mounts and looking at commercial models I decided to put my shop to work and built my rough country tripod dolly, version1.
I say version 1 because several mistakes were made along the way and wood glue does not come apart easy.
My next version will be a bit shorter and have more robust levelers. My original idea was to just mount the wheels under the T but that made it so high I couldn't build adequate levelers.
Making the drop mounts for the wheels was an on-the-fly revision after the T had already been assembled. it is actually mortis and tenoned together and cross screwed. Then the plywood was glued and screwed on as well.
The wheels came from Harbor Freight and cost $18 for the swivel front and $15 each on the stationary rear. They are 10 inch pneumatic so I can roll anywhere on the property which is mostly rut filled grass. All the nuts and bolts were another $50 or so. They are all pretty large. so total cost is about $120 with the wood. Version 2 will just cost the wood and time.
The levelers BTW are run up and down with a drill and a 3/4" socket. The frame is dead level to the tripod head so all I need to do to level is roll it into position, roughly point the rig at Polaris, set a couple torpedo levels on the base and run the levelers down. I do put vibration isolators under them really so I have a larger base on the ground. The leveler screws are 1/2" carriage bolts and I bedded a nut in the 2x6 and locked it in place with a small plywood cap underneath.
That's about it. Happy to answer any questions or put up additional pictures if anybody wants or needs to see.

Link to my gallery of pics