Last night I went to my favorite dark site to do some imaging. My goal was to image some planetary nebulae with my main goal being either the Helix Nebula or the Crab Nebula. In the mean time my buddy who was out in the desert with me suggested doing M31 again just to pass the time. I put together a string of images at 210 seconds at 3200 ISO and some darker ones at 1600 ISO. I had recently imaged this galaxy and even printed and framed it because I liked the image so much. It turns out that this one has a bit more detail and color with less noise, so I had to show it.
I did get the Crab Nebula. It's going to require a bit more tender loving care than M31, but that is part of the fun! I guess you could say the Crab Nebula is not low hanging fruit.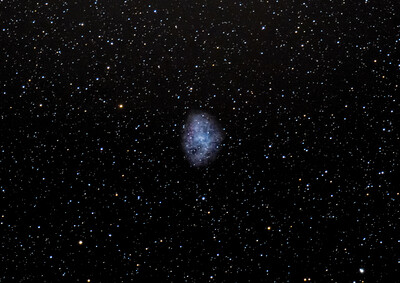 We called it a night by 10:30 either because of the high wispy clouds that were messing with our guiding or the fact we were both freezing!

The good things about the cold were the ground was frozen enough to keep the dust down and the mosquitoes are gone.
Edited by Jeffmar, 28 November 2021 - 04:35 PM.