M57 NGC6720 Lyra, The Ring Nebula

M57 is a planetary nebula discovered by Messier in 1779. It was formed when ionized outer layers of the central star were ejected into space after the star exhausted nuclear fuel, and gravitationally collapsed into a white dwarf. Ultraviolet radiation from the 14.9 magnitude central star is presently exciting the surrounding gas to fluoresce. Blue-green color in the interior of the nebula is due to doubly ionized oxygen fluorescence, while the red color of the outer regions is due to partially ionized hydrogen and nitrogen. The nebula's angular size is 1.6 arcmin, and apparent magnitude 8.8. It lies about 2,600 light years from Earth, and is expanding at 25 km/sec. The light which is presently reaching us from the Ring Nebula was emitted during the time of Homer.

The small galaxy NW of the Ring Nebula is IC 1296, a low surface brightness barred spiral, Bmag=15.4, angular size 0.487 arcmin, redshift 0.017065. Its comoving = proper distance is approximately 236 Mly, recession velocity 5,085 km/s, absolute magnitude -19, and actual diameter 32,640 ly, about four times smaller than the Milky Way. When these photons were emitted, Earth was in the Triassic Period in which dinosaurs and mammals were evolving from reptiles following a great extinction event which had exterminated 90% of all life on the planet. From the photons' perspective, time does not pass when travelling at the speed of light, and the journey was instantaneous.

Image Details:
-Meade 8'' ACF, AP 0.7x compressor, 200 x 1400mm
-iEQ30pro mount, Orion 60mm f/4 SSAGpro autoguider
-Canon T3i modified camera, Astronomik L3 filter
-16 x 75 sec subs, ISO 1600, 30 dark and 30 bias frames, 50% linear crop, 3x drizzle
-Limiting magnitude >18.0
-PHD2, DSS, XnView, StarNet++, and StarTools v 1.3 and 1.7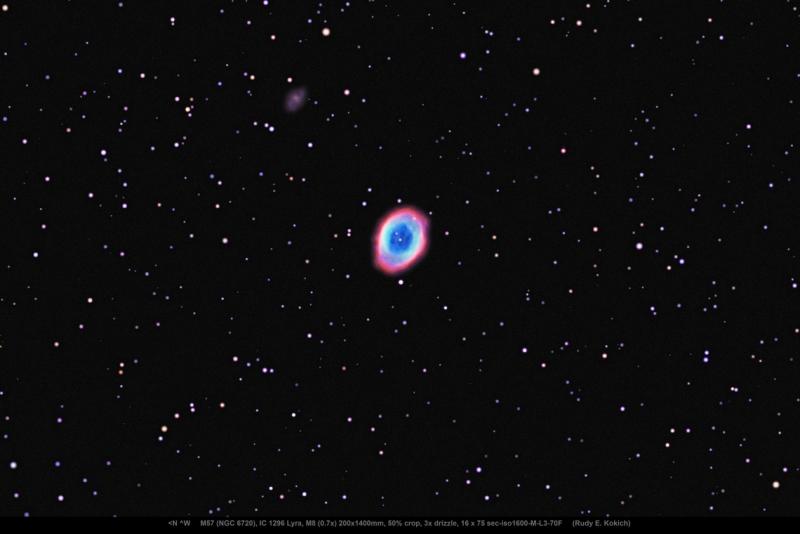 Edited by rekokich, 01 December 2021 - 04:58 AM.