1 Stanislas-Jean
Planet Uranus 9th November, 203mm classical cassegrain F12 GSO/TS.
Sky conditions good
T5/6 (means magnitude 5 was visible on the area of interest),
Seeing 7/10 on good moments (airy disk of a m4 star clearly defined with the 1st diffraction ring undulating),
Magnifications 345x and 385x. 345x was the best conditions for drawing the planet disk.
Satellite Oberon was clearly defined helping the firm confirmation of the planet orientation.
Brightenings were noted into the equatorial streak noted (1) and (2), Brightening (1) was confirmed by Mr Melilo.
A darker pôle was there bordered by a clear band then a temperate band of similar albedo than the pôle, the said clear streak on equator then the south hemisphere darker, the darkest feature on the surface disk.
Globally the planet brightness seemed brighter than noted a month and a half before now, the contrast features on a noticeable contrast improvement.
Brightenings and the darker north pôle presence are the main topics of interest here.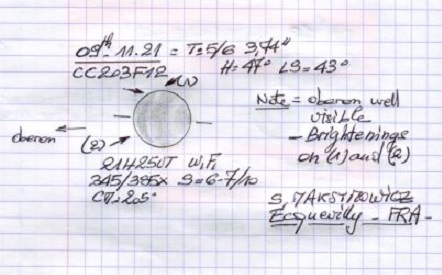 2 Chris Myers (chrislon geo)
Double Cluster - NGC869 / NGC884
10/1/21 and 10/31/21
Landenberg, PA (from my cul-de-sac)
Bortle 5/6
Seeing was good both nights
Equipment used:
Celestron 8SE on the stock mount
28mm RKE
0.63x focal reducer
45.7x magnification
0.98° FOV
I wore my glasses while observing
#2 mechanical pencil and white printer paper
This was definitely a challenge 4 hours to complete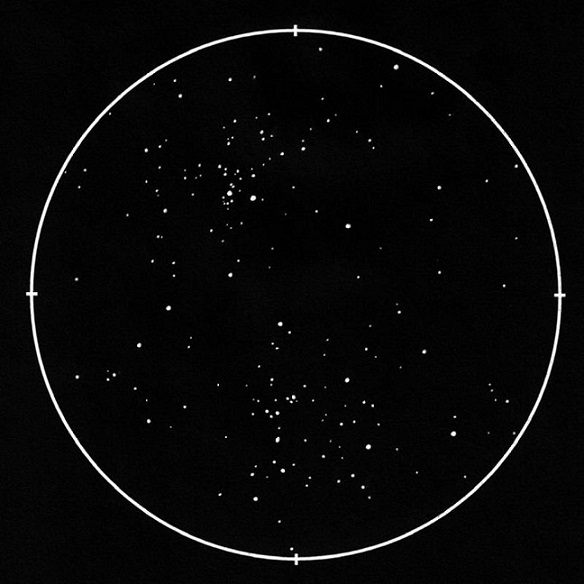 3 Cindy Krach (Warmvet)
Partial Lunar Eclipse & Pleiades
11/18/21 2303 HST 11/19/21 0903 UT
Maui, Hawaii 4,000el
7x50 Action Extreme Binocular
Black Artagain paper, conte crayons
S Ex, T 5/7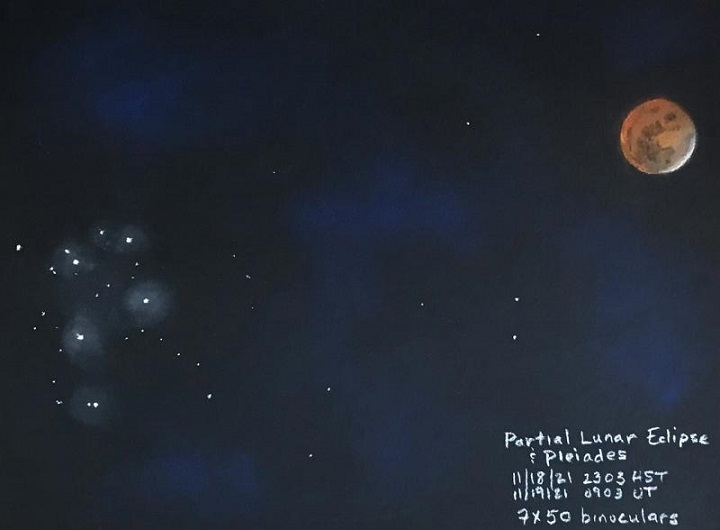 4 curiouscoffeecat
Jupiter and Moons
October 30 2021, 2230 Local time
Chicago, IL USA
Celestron Starsense Explorer 114AZ (D=114mm fl=1000mm)
26mm, 2x Barlow: 76x
Arteza black 5.5x8.5" drawing paper, white charcoal pencils, white and black inks, rubber eraser, digital manipulation for lighting correction (because matte black paper shouldn't be shiny).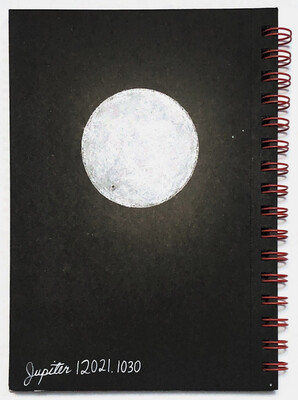 5 Achim ( acr_astro )
Telescope: Lunt LS 50 THa B600 PT
Eyepiece: Celestron X-cel 10mm
Date & Time: November 27th, 2021 / 1445-1515 CET
Location: home terrace, Dusseldorf region, Germany
Technique: reddish Koh-i-noor pastels, pastel pens and charcoal pen on black Hahnemühle Ingres mould-made pastel paper
Size: 24x31cm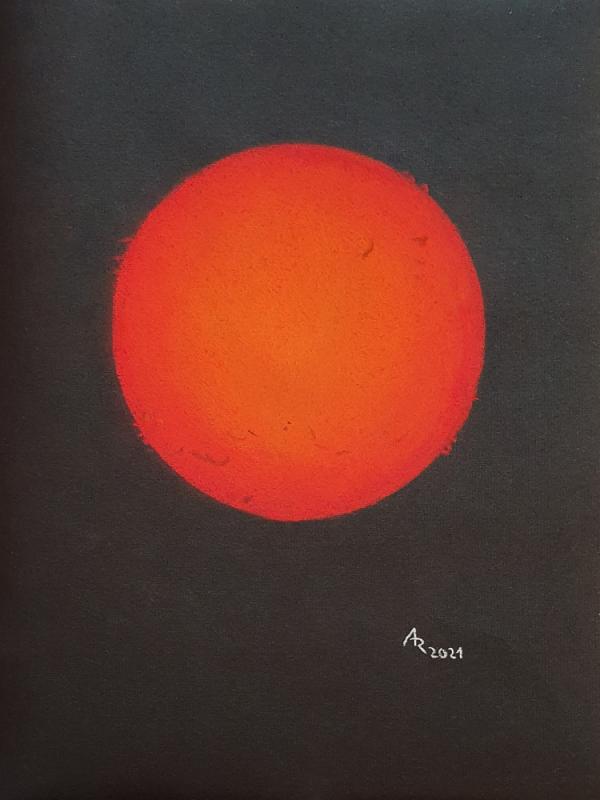 6 JMSchwartz (Jon M. Schwartz)
Tapezium Region : Acrylic painted on board.
Location: Simi Valley Ca.
Seeing was progressively better each night.
Sketched & painted over 3 days & nights , 11/25/21 - 11/27/21.
Eye piece HD Nikon Nav 12 1/2.
Telescope : 12 1/2" Zambuto Portaball on a Equatorial platforms tracking platform.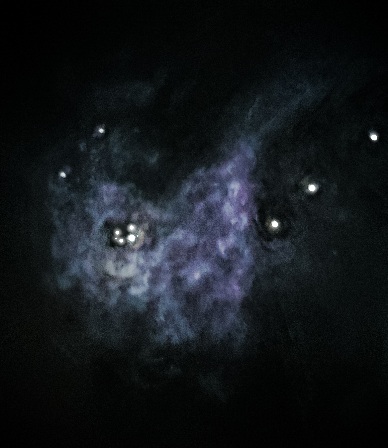 &nbsp