This is my final sketch from a great night in darker skies in early November. I was talking with another observer about filter selection for planetary nebula when they quipped that for planetaries they preferred the views at x500+, no filter required. Well that's just a bit beyond what my 10" GSO Dob can do, especially in very average seeing. Or…was it? Funny thing about these rules of thumb I keep reading about in my explorations of this hobby.
Using a 2x barlow on my shortest focal length eyepiece puts me right around x525 and although the stars in the field were a little bloated the nebula was still bright and clear, with color and so much detail visible. There were clearly a lot more details than the view at x360 and I wish I had more options at these magnifications to find the right view.
The central star was bright and clear, with a very apparent darkened ring around it. The inner shell formed a bright ring around this darkened center and another darkened ring around it. These concentric rings gave a kind of bullseye impression to me. The outer shell fringed around this second dark ring and the texture of the cometary knots was clearly visible. The outer shell was so unique, beautiful and visually detecting these cometary knots was incredible!
I didn't think I'd be able to execute a sketch at this magnification in an untracked Dob (especially at 3:30 am after 9 hours of observing!) but the view was just so clear, bright and perfect that I had to try. The recognizable pattern of bright field stars made it easier to nudge things back into view, and since every other observer had packed it up for the night and I had already seen everything on my list (and then some!) I could be a bit less judicious with my red light. For me it was worth the added effort.
Here's my sketch done at the eyepiece on black paper with white conte pencil for stars and white pastel applied by brush for the nebula. Stars are highlighted afterwards with white gel pen.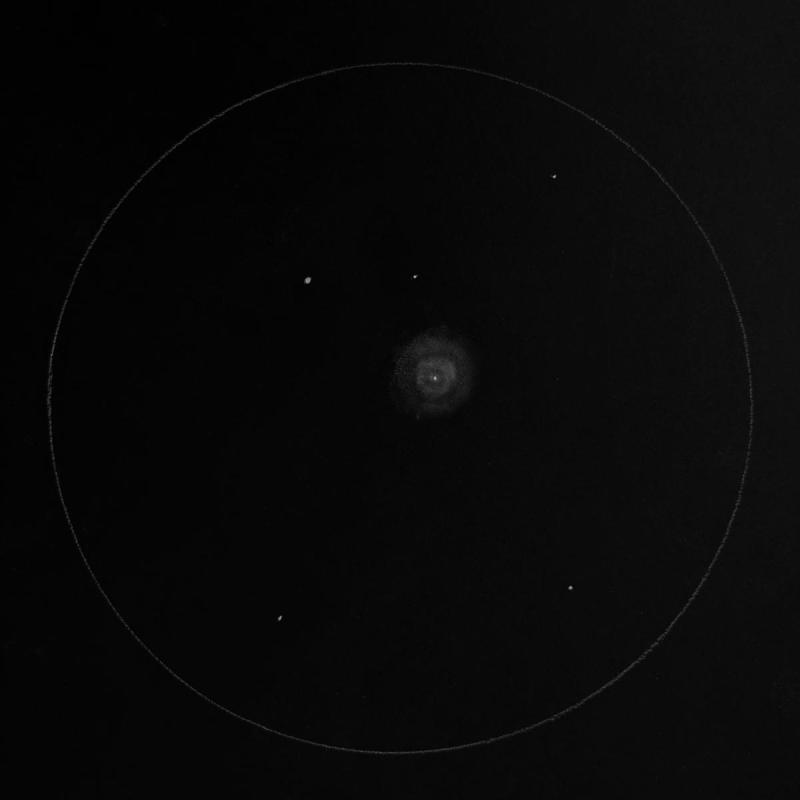 NGC 2392
~x525 magnification
10" GSO Dob f/4.9
APM XWA 5mm, Televue 2x Barlow
11/5/21, Seeing and Transparency 3/5
Edited by Nightowl99, 07 December 2021 - 02:13 AM.