I got to spend a couple of nights camping in the desert at Buenos Aires National Wildlife Refuge

The second night transparency was fantastic, although clouds came in around sunset and stayed until after 10pm. It was well worth a shorter observing session though, because I finally got a good look at the spiral arms in NGC 1365! I have tried unsuccessfully quite a few times before- usually you can just see the core. It only gets about 22 degrees above the horizon, so conditions have to be perfect.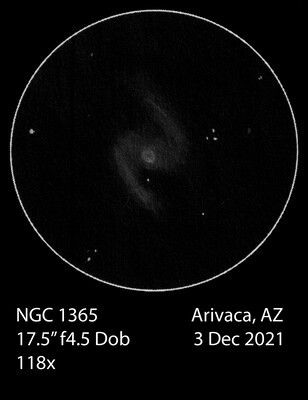 I had a planned list for the night but didn't really use it. I ended up just using SkySafari, picking off low altitude galaxies since transparency was so good. Next, I happened to try for NGC 1097 and I did a double take. Another barred spiral? Yes indeed.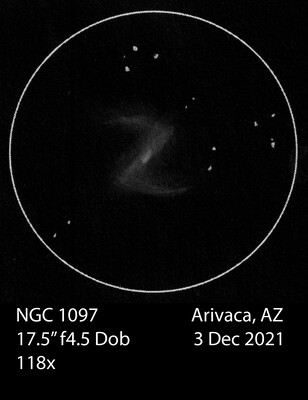 The last galaxy sketch I did that night was going to be NGC 1399, which turned out to be one of many galaxies visible in the Fornax Galaxy Cluster (or at least the section of it that fit in the eyepiece). 1399 is center- right in the FOV. NGC 1365 is quite nearby, but out of the field of view.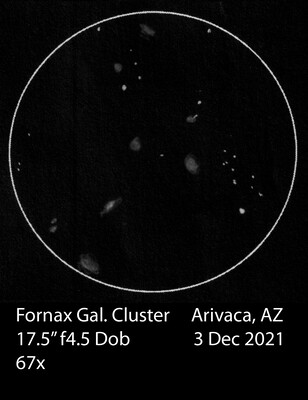 And also a glob in Columba, NGC 1851: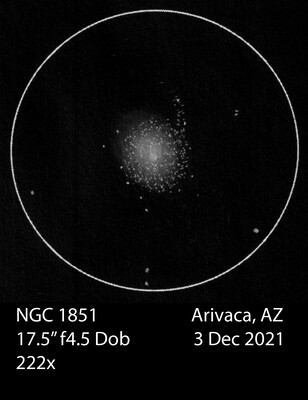 Earlier in the evening I also saw a string of Starlink satellites go by and snapped a bad photo...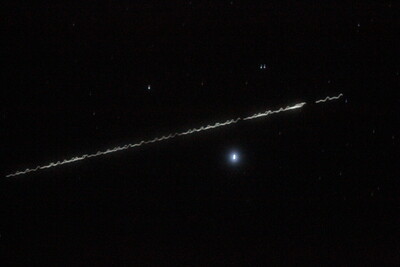 The previous night I sketched NGC 55:
In the early morning of the 3rd I got up to see C/2021 A1 (Leonard) near M3. I did a very, very quick sketch after oversleeping a bit. This sketch has been edited in post to make the comet and M3 smaller, so it's a lot more accurate (not something I usually do)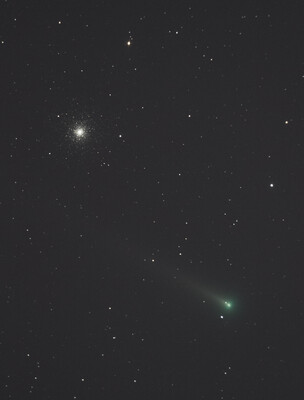 And the dob waiting for nightfall: