I picked up a very slightly used RC6 last fall for a good price, knowing full well their mixed reputation for AP. My plan is to not spend much money upgrading it, until and unless it proves to be a reasonable imager without upgrades. The only upgrade money I have spent so far is a used CCDT67 reducer, which can be sold on again at not much loss.
First light was in the Fall, a short stint on M13 with my QHY183C, riding on my CEM25P. The small mount actually guided it pretty well and the image quality was at least OK. But while setting it up, one leg of the 1.5" tripod started slowly slipping. I cranked it down as hard as I could, and that did not happen again - but I didn't trust the tripod enough to leave it imaging unattended.
In December I finally upgraded to a CEM40, and got a bit of useful weather in between other (refractor) projects for one night. This time with the reducer. The image scale with the small 183 pixels and the reducer spaced for ~0.65x worked out to 0.56"/px. Oversampled, but not absurdly so. The CEM40 guided at a bit under 0.6" ave RMS deviation that session, so not a terrible match to the image scale.
I got 110x60s subs of M1 before unexpected clouds rolled in. A quick processing run through StarTools shows - not terrible(?) at least.
500kb jpg: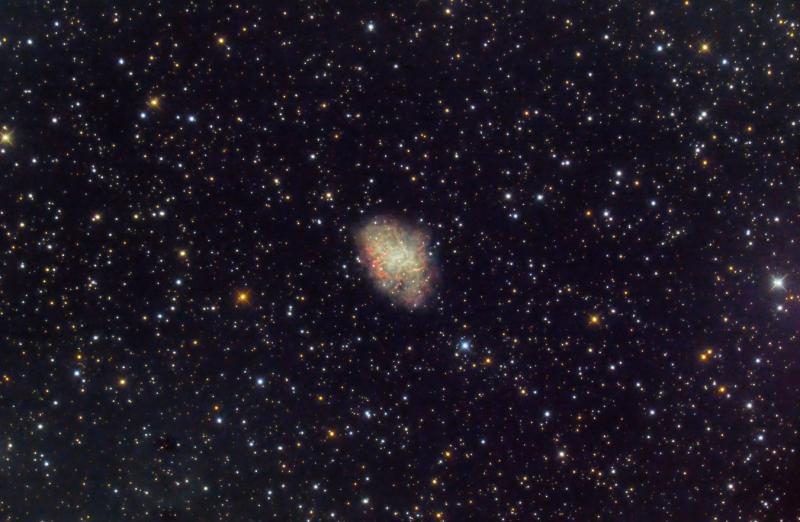 Some issues with stars in the corners, but it's hard to tell without better experiments if it is collimation or just being too aggressive with the reducer spacing (I wanted to see how much I could get away with with the small sensor, in hopes of keeping the image scale from being way, way oversampled). Also hard to tell with the compressed jpg.
It's going to be too cold (for me) to want to stand out futzing with collimation for awhile anyway. So I think I might just go ahead and see if I can collect more data with the current setup. What would you do?