Here's one more from my night in Amboy Crater on the first. NGC 891 is beautiful under dark skies! This edge on spiral in Andromeda, about 30 million light years away, is clear and dramatic, with a bright core and apparent dust lane. Floating in a shimmering starfield, the bright superimposed stars over and around the galaxy create a contrasting effect that gives NGC 891 an ethereal quality that is just amazing. Wow!
The core showed a clear and pronounced brightening, but did not have defined edges and sort of gradually spread out away from the center. The dust lane was apparent immediately but still required averted vision to define for the sketch. The core was much clearer above the dust lane but was apparent below the dust lane as well. A superimposed star on the southern side (right side of the sketch) marked the edge of what I could see of the dust lane. On the northern side the dust lane faded from view beyond the brightening of the core but the galaxy showed a mottling on this side that I saw afterwards is visible in photographs as well.
At about x150 with my APM XWA 9mm the 13.5 arc minute galaxy stretches over a third of the field of view. Photographs show that the edges extend even longer than the portion I was able to see in my 10". There was a general haze of light around the galaxy as well that I tried to capture in the sketch that also added to the ethereal quality of the view.
This was my first attempt to sketch a galaxy from dark skies and it was a bit tricky. The haze of light around the galaxy, combined with the fact that I could not detect the outer edges, makes my depiction look more like a space slug than the elegant edge on spiral that appears in photographs. That being said, I think it does a decent job of capturing the view that I had, and I feel it shows the features I was able to view fairly accurately.
Here's my sketch done at the eyepiece on black paper with white charcoal pencil for stars and white pastel applied by brush for the galaxy. Stars are highlighted afterwards with white gel pen.
Thanks for looking!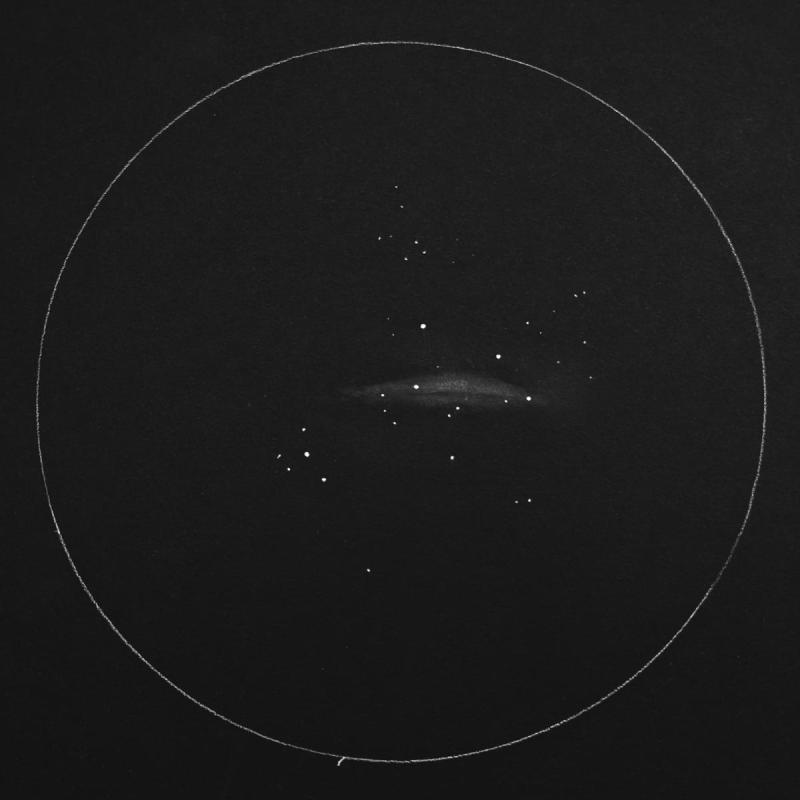 NGC 891
x150 magnification
10" GSO Dob coma corrected to f/5.4
APM XWA 9mm
1/1/22, Amboy Crater, CA
Seeing 3/5, Transparency 4/5
Edited by Nightowl99, 18 January 2022 - 02:58 AM.