Pretty cold last night but the skies were clear. Here are a couple results from my EAA observing last night.
The Horsehead Nebula
You have to try a bit to see it, but it is there. I could just start to see the Horsehead about 3 minutes into the live stack. The image above is a live stack of 23 minutes and 20 seconds (20 x 20 seconds and 40 x 25 seconds at 450 gain) in SharpCap Pro. The bright nebula NGC 2023 looks quite nice I think.
The Flame Nebula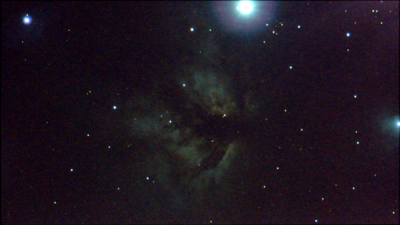 This is a SharpCap Pro live stack of 80 x 15 second exposures at 450 gain. The Flame was visible almost from the first stack but details continued to resolve as more and more frames were added to the stack.
Both of these live stacks were captured using the SV305 camera through my AT66ED.
A couple more from last nights session can be found here: http://www.suffolksk...ouple-galaxies/
Enjoy!