Took me four nights to get enough data with the IC 1848. OIII with the full moon in the sky is not such a good idea as it turned out. This was my second SHO imaging session with the new ASI2600MM Pro. I love it, it's such a great camera!

- ST Optics 60mm APO F/6
- SkyWatcher EQ-6
- ASI2600MM Pro
- ZWO SHO filters
- ZWO EWF
- Gain: 100
- Temp -5
- AsiAir Pro imaging + guiding
- 26 x 600 sec Hα
- 24 x 600 sec SII
- 25 x 600 sec OIII
- 5 x 900 sec OIII
- 30 x flat Hα, SII, OIII
- 50 x bias
- 30 x dark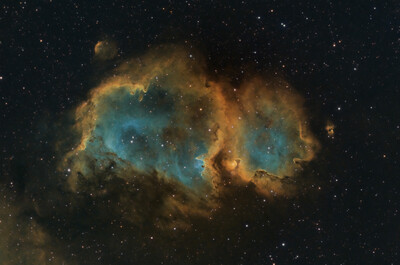 Larger version here: https://www.astrobin.com/31zj9m/0/
I'm having some trouble with elongated stars in N-S direction when the mount is getting low west of the meridian at high DEC. According to AsiAir Pro my PA is 10" or so, the Guide log says 1'. It's repeatable and I think it's not flexure. I really have no clue what is going on. True, seeing is more or less really bad, but I got elongated stars with a 15 min exposure even when the RMS was 1" and without any obvious spikes.
I'm setting up a mini PC with full PHD2 to try and troubleshoot. With so few clear nights I really don't want to discard half of my frames!
Talking about a learning curve! First to do everything right outside to get decent frames, then comes the processing! Sometimes my head hurts!

I don't want to touch PI until I am more confident and know what I'm actually doing most of the time. APP is very kind to a novice like me, so I'm grateful for that. And it does a great job, too.

Edited by Jure_13, 28 January 2022 - 05:42 AM.