I wish I had an EQ mount, but my balcony is small and Polaris nowhere to be seen from there.
So I decided on getting an alt/az mount. It's a SkyTee2, motorized with OnStep. For visual it's a joy with my C8. Planetary also works nicely. For DSO tracking is good enough for 5-10s subs at 1280mm. Quite nice already, but I realized that OnStep allows pulse guiding also in alt/az configuration. I tried it out and get around 1.5" RMS error. Coupled with my 3" sky FWHM this allows for round stars. PHD2 is amazing and can deal with the field rotation of the guide FOV from south-east to west without deterioting the RMS.
Of course field rotation is still annoying. In the south I am limited to 30s, south-west 60s and west 90s subs. But that's already a lot to work with. More tricky is the long-term rotation of the FOV around the guide star which makes getting the FOV setup properly tricky.
Overall, it's of course nothing for pixel-peeping. But for my occasional imaging for the fun of it, I am pretty happy.
Some examples...
NGC 7331 (9 hours of 30s subs)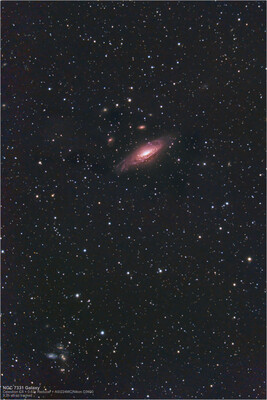 Edited by jesco_t, 07 March 2022 - 09:18 AM.