In the words of our dear departed TV astronomer Jack Horkhimer "Greetings, Greetings Fellow stargazers!"
This month's Challenge involves many of my favorite planetary nebula. I will throw in a few Spring galaxies to mix it up!
Firstly, let us look at some bright planetary nebula.
M97 in Ursa Major. Known as the Owl nebula, it looks great in any telescope, but with more aperture gains more details. I have imaged this masterpiece with everything from a 60mm APO to a 14" Dob. Viewing visually is just as rewarding, however, by eye, it is a featureless gray blob. Attaching a camera to your telescope reveals a grand cacophony of vivid reds and greens. At magnitude 9.8 and a diameter of 3.4 x 3.3 arc min, it is a fairly large planetary nebula. If you have a small enough scope and large enough camera sensor, you can view M108 in the same field of view.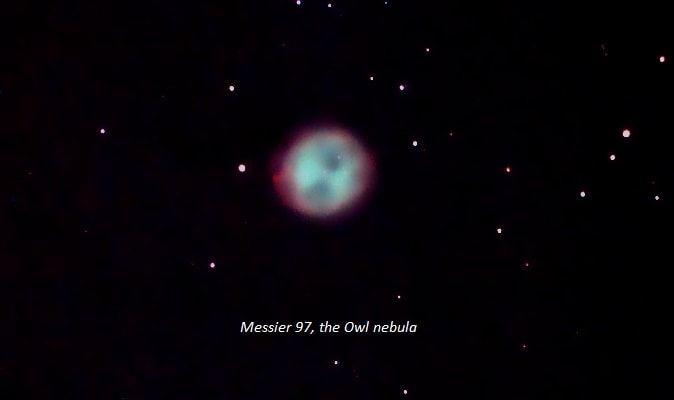 NGC 3242, standing nearly on the meridian tonight, underneath Regulus, is the often quoted Ghost of Jupiter. Herschel first described this planetary nebula as a shadowy spectre of Jupiter, albeit smaller. At magnitude 7.3 it is two magnitudes brighter than M97, but nearly 3x smaller. At 42" x 36", it is a more compact planetary nebula, which pales in comparison to M97 in size, but not in splendor! Upon magnification or zooming with your camera sensor, after a few stacks of lights, you begin to see a smaller disk within the surrounding glow of the nebula. The stellar white dwarf at the center glows at magnitude 12.1, easily seen both visually and by camera. Using a narrowband filter greatly enhances this beauty of the deep sky wonder, bathing in a greenish glow, sometimes seen as blue without a filter.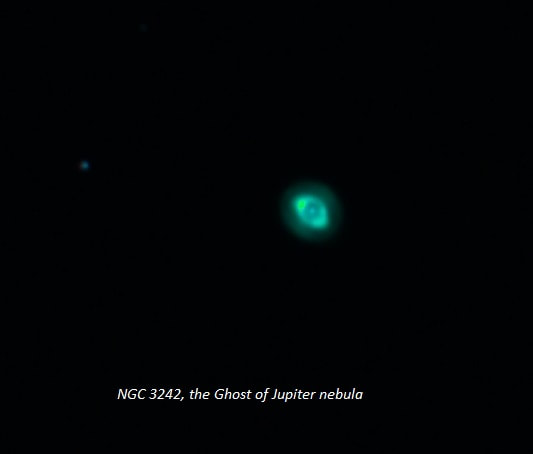 NGC 2022, seen early in the evening for a few hours, is a very nice planetary nebula near the head of Orion. At magnitude 11.69, this planetary nebula shows remarkable detail when imaged with an 8" or larger. It has a well defined ring, with two stars implanted within that ring, each opposite of the other. It has a nebulous outer shell, viewed with a long exposure. Its size, however is small at 30" x 30" in diameter.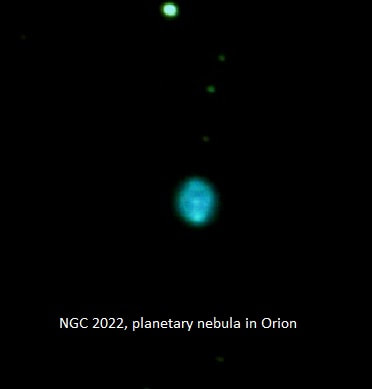 Abell 12, is another of my favorite planetary nebula. It is easy to find, basking in the glow of a nearby star, Mu Orionis. At magnitude 12.4, it is easy to see with a scope of 6" or larger. You would be best served to see it if you used a Dual or Single narrowband filter, say an L-eXtreme or OIII. It is a featureless pale glow, no discernible features, unless you have a larger scope or longer exposure times. Always a treat to view!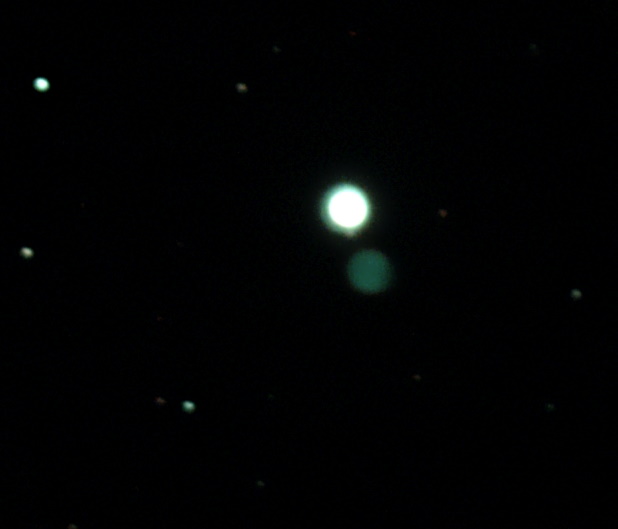 NGC 2438, living in the area of M46, is a nice colorful planetary nebula to view. With any OSC camera, you can see colors of red and mostly green. It is embedded within M46, although astronomically speaking, it is closer to us than the open cluster, it just so happens to be in our line of sight. It is large, however, being 72" x 66" in diameter.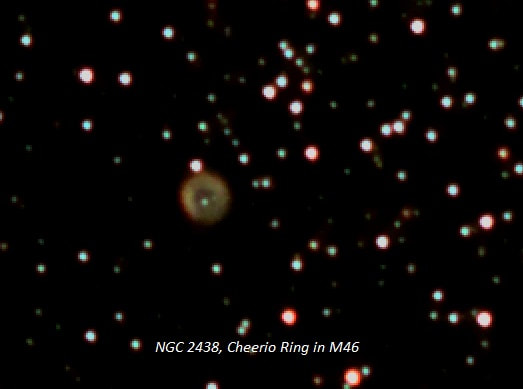 NGC 2392, know in some circles as the Eskimo nebula and to others as the Lion headed nebula or the Clown nebula, sporting a mane of hair on the outside of the nebula. This object is magnitude 9.2 and 56" x 48" in diameter. There is a star in the same field of view, but when viewing at a large field of view, the nebula looks like another star until you zoom in on the nebulous star and see it take the shape of the rounded nebula. Larger scopes will reveal the minute details of the 'Hood' and possibly see the small striations of red nebulosity in a small arc at the top of the head. The central area of the nebula has intricate loops of nebulosity, mostly seen with the largest of scopes and longest of exposures. A fine gem of a nebula to observe and image!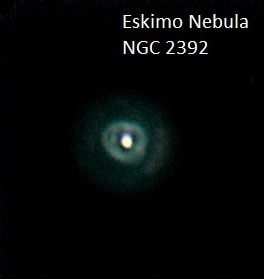 Now for some slightly more difficult objects.
NGC 2346, located in Monoceros, is a fairly large, but slightly dim planetary nebula. Glowing at 11.9 magnitude, this 60" x 48" diameter nebula is easy to discern using a narrowband nebula filter. In the glow of OIII, it looks like a pale green glow, with a very prominent central star.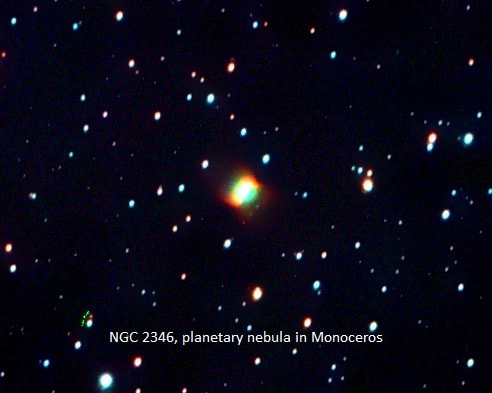 NGC 2440, located in Puppis, resembles the oft named Bow Tie nebula NGC 40 in Cepheus. It has a really dense, over saturated central region, with tendrils of red nebulosity branching off in opposite directions. A good long exposure with your camera will eventually tease out these tendrils if you stretch the image. At 9.3 magnitude and 72" x 42" in diameter, it is a nice planetary nebula to view.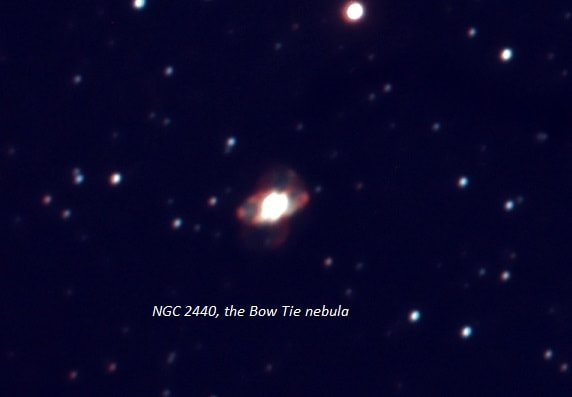 NGC 2371/72 is a double lobed planetary nebula in Gemini. It was misclassified because it was originally seen as two distinct lobes and not until long exposure photos were used, it was determined to be classified as two nebula, NGC 2371 and NGC 2372. However, if you stack many frames for a long time exposure, you will see that this 11.2 magnitude object is indeed the same nebula. You will eventually see that this nebula appears to be a Yin Yang looking nebula with the two lobes going in opposite directions. Further stretching of the image reveals faint outer crescents on either side of the nebula. This object requires a narrowband filter to see its full form. It is 72" x 56" in diameter.
NGC 1535, in Eridanus, known as Cleopatra's Eye, is another hooded planetary nebula. Located west of Rigel, it is a magnitude 9.39 and 56" x 42" diameter nebula. It has a condensed central region and a diaphanous outer hood, where within this hood lies a star. The central star of the nebula is quite bright. My best pic of this was done with a Nexstar 6SE telescope and my then camera, an ASI224MC camera. A nebula narrowband filter is needed to tease out this diaphanous hood.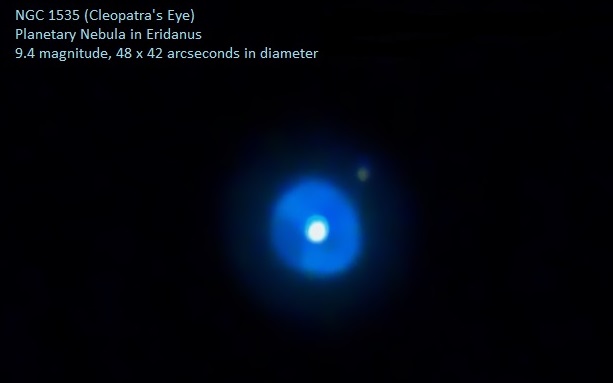 NGC 1514 in Taurus, is a sight to behold. Called the Crystal Ball nebula, this object of magnitude 11 and 138" x 120" in diameter, is large, but not that hard to see. It has a bright central star and a nearby close companion and the wispy tendrils of nebulosity surround this star. Like M97, this nebula has 'eyes' of a sort and is best seen after a long and stretched image of the object. A narrowband filter is best used to see this fainter nebulous glow.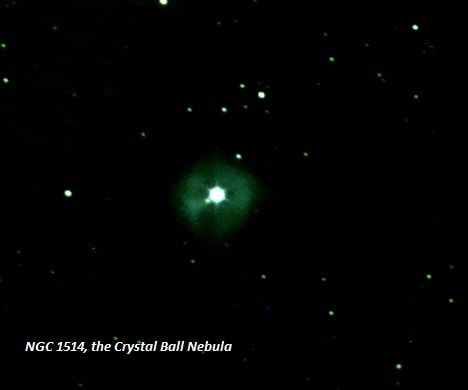 NGC 1501, in Camelopardalis, is in a region devoid of any bright stars and hence is difficult to find. Using Goto will get you there with little difficulty. This nebula is often called the Oyster nebula. It is another hooded object, with a bright central star and a 'hood' of nebulosity surrounding it. I would consider using a narrowband filter on this one, as the nebula itself is dimmer. But once captured makes for a great addition to any observing list.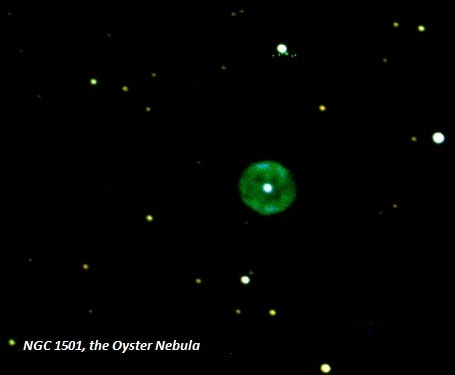 Now for some Challenges!
I am fond of the 'obscure' planetary nebula with names like Kohoutek, Minkowski, Abell just to name a few. Here are a few difficult objects for you to find.
OH 231.84 +4.22or better known as the Calabash or Rotten Egg nebula, sits in the nearly same field as NGC 2438 in M46. It is an extremely small planetary nebula or Proto-planetary nebula. Named so because of the sulfur compounds in its chemical makeup. This object is part of M46, with the same radial velocity as the star cluster. It is magnitude 9.5, but is only 60" long. It looks like an upside down egg beater, if you remember what they look like. It is within 5 diameters of NGC 2438 away from NGC 2438. I have seen it in my images of M46 and NGC 2438. It is often a featureless long strand of nebulosity.
Minkowski 1-7, is a planetary nebula located in Gemini. Magnitude 13.5 and a diameter of 18" x 12". It sits between a fairly bright star at 10th magnitude and a fainter star. It is a pale green disk with a little faint red on the periphery. A narrowband filter is a must when imaging this small planetary nebula.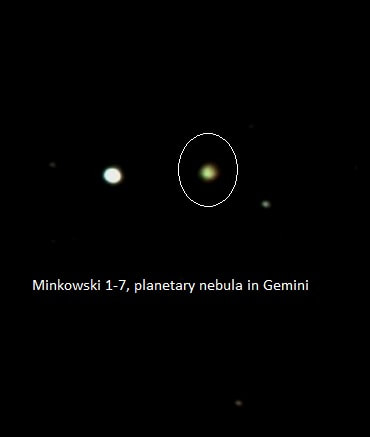 Minkowski 1-8 in Monoceros, is a similar looking planetary nebula, just like M 1-7. It is a pale-ish green disk, with a faint outer ring of red Ha. There is a small dark streak bisecting the nebula. This magnitude 14.3 nebula is 24" x 12" in diameter. A narrowband filter is required to image this small planetary nebula.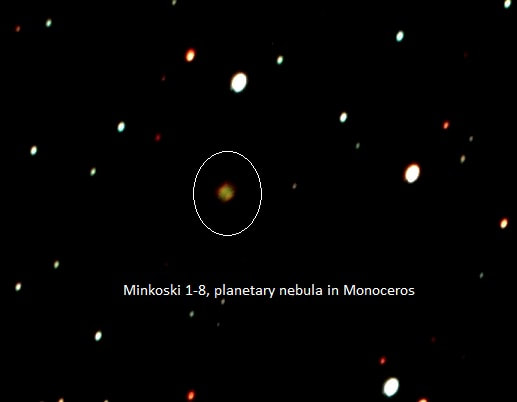 Abell 33 in Hydra, is a large tenuous disk of nebulosity. This 12.0 magnitude planetary nebula is not to be taken for granted, because of its large diameter of 276" x 258", it is faint as all get out! When imaged, it takes on the effect of a Diamond Ring because of the bright 7.2 magnitude star located on the rim of this big nebula. This nebula is almost perfectly round, much like Abell 39 in Hercules. This nebula is round with some visible pillars with in it and a somewhat dark streak running through the middle. Many fainter stars are embedded inside this nebula. The nebula is situated within a triangle of 8th and 9th magnitude stars. GoTo is required to find this object as well as narrowband filters.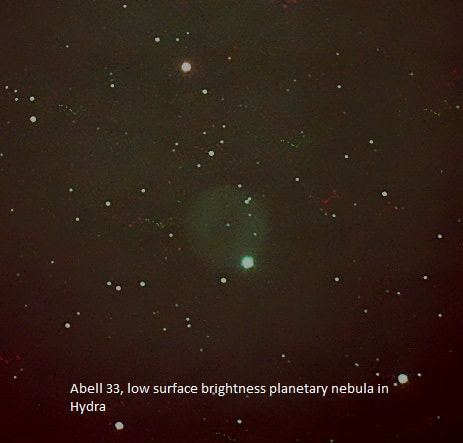 Abell 34 is also in Hydra, not too far away from its sibling. This is also a very large planetary nebula at about 290 arc seconds in diameter. It glows at magnitude 12.9, but because of its large size, its surface brightness is quite low, around magnitude 15+. It is a diaphanous disk, with a brighter ring and two brighter crescents on either side of the ring. It has two faint galaxies as part of one of those crescents. Many fainter stars are embedded within the disk of nebulosity. There are two brighter stars, 9.7 and 9.2, flanking the nebula, making for a sort of makeshift triangle including the nebula. GoTo and narrowband filters are also required in imaging this nebula.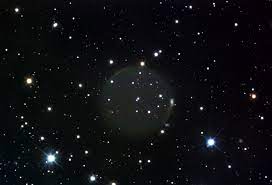 And now for some ubiquitous galaxies.
Ursa Major is high in the sky this time of year, so should be quite advantageous to find these often overlooked gems!
NGC 3583 is a spiral galaxy, magnitude 11.3 and 132" x 78" in diameter. One side of the galaxy has one spiral arm, while the other side sports 3, one under the other under another. The one spiral arm has a sort of hook at the end of the arm. There is a faint galaxy located to the side of the nucleus. A fainter edge on spiral galaxy is located nearby, surround by what looks like a faint ring.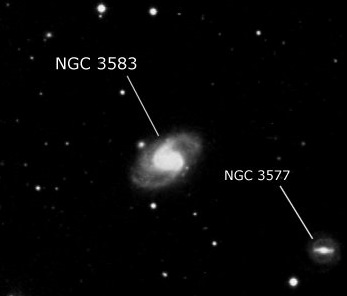 NGC 2841 is a gorgeous galaxy, similar in shape to M63, the Sunflower galaxy. It has wondrous tight spiral arms and a faint hint of floculousness. There is a 6.2 magnitude star not too far away. This galaxy is magnitude 9.12 and a size of 414" x 198". Quite large indeed!
Edit: No image for this one.
In Canes Venatici, is a gorgeous face on spiral galaxy! NGC 5390 is by all accounts a very photoesque galaxy. It looks like M51, without the companion. It shows one spiral arm winding in one direction, while two others wind in the other. There is a faint magnitude 9.0 star on one side of the galaxy. In color, this would make a very frame-able piece of art on any wall!
Edit: No image for this one.
Lastly, in the constellation of Lynx, is a fantastic Edge-on galaxy, UGC 4277, similar in appearance to NGC 4565. It has a dark central lane bisecting this galaxy. This magnitude 14.9 galaxy is 348" x 24" in diameter.
Faint, but imaged is very rewarding, if you like edge-on galaxies!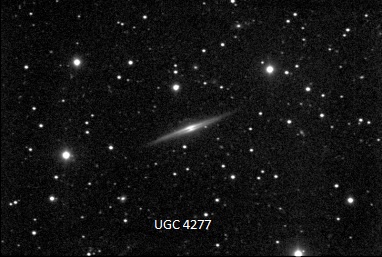 Enjoy this month's EAA Challenge!