A few people asked me to show I motorized my manual SkyTee2 alt/az mount to full GoTo with OnStep. The SkyTee2 mount is sold under different brands but the mount is always the same. Mine is called Omegon TwinMaster AZ.
The cost for the full setup is about 350 EUR for the mount, 150 EUR for the tripod and 100 EUR for the electronics. The beauty of this modification is that it does not require a 3D printer or fancy custom parts. For about 600 EUR you can get a mount that handles a C8 effortlessly. With upgraded clamps and properly balanced I woud put a C9.25 on it without hesitation.
Visual it is a joy with negligible focus wobble even at 500x. Photographically it does 10s unguided at 1300mm and with guiding I do 90s exposures at that focal length with 95% keep-rate (field-rotation is the bigger issue). I show some examples here: https://www.cloudyni...mages-included/
Requirements:
2x M4x14 screws (and better 2x M4x16 as backup)
2x NEMA17 mounting brackets (image with measurements in the gallery)
2x NEMA17 motors (200 steps per rotation, 1.5A)
2x 16T 6mm GT2 pulleys
2x 48T 6mm GT2 pulleys
1x 166T 6mm GT2 belt for ALT axis
1x 164T 6mm GT2 belt for AZ axis
1x OnStep controller (MKS Gen L 2.0 with TMC5160 drivers)
Assembly:
The
SkyTee2
has very conviently located mounting screws at the wormgear housing of its AZ and ALT axis. These can be hijacked to mount NEMA17 motor brackets. The screws are M4. The metal is pretty soft so you need to be careful to not strip the threading.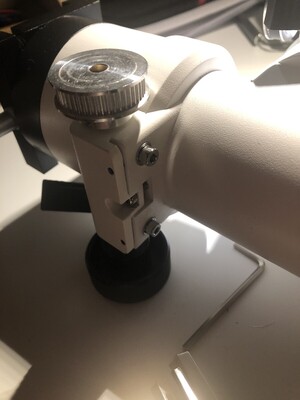 I use these mounting brackets:
The AZ bracket can be easily installed. It directly fits. Note that I only use one screw to attach it. I was skeptical at first, but 18 months of usage showed that it's solid enough. There's only little torque applied during operation.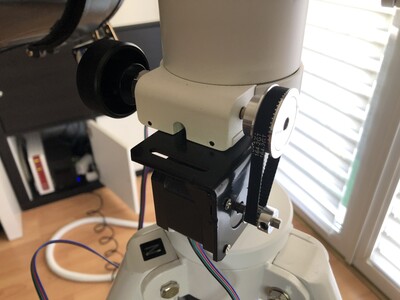 The ALT bracket is trickier. The wormgear housing is a bit closer to the base. You need to remove the back part of the NEMA17 bracket to make it fit. But it's not difficult with a small metal saw.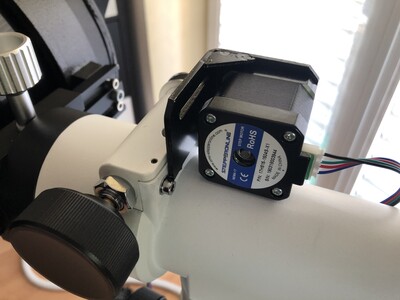 You need to remove one slow-mo knob per axis. It's fastened with a small grub screw and easily comes off once it's loosened. The 48 teeth pulleys replace the slow-mo knobs. The 16T pulleys go on the motor shaft. This gives a 3:1 reduction. The wormwheel has 144 teeth (same as the EQ5) giving us 432:1 mechanical reduction. Since both axis are slightly different, the required belt length differs. I use 166 teeth for ALT and 164 for AZ, but it might be a good idea to buy a variety of lengths. They're cheap after all. I put the belt on both pulleys before gently sliding the assembly onto both axis shafts. You need to play around a little until they're well aligned. Belts don't need much tension to work, so don't use too much force. If you can press the belt in by 5mm that's totally fine.
At that point you're basically done. If you open the clutches or disconnect the motors from the controller you can still use the mount manually.
Electronics:
I won't cover the electronics here in full detail but only give you the outline here. OnStep has a large documentation and friendly user group at
https://onstep.groups.io/g/main
.
I used a MKS Gen L 2.0 3D printer board and added TMC5160 drivers. The drivers are on the expensive side (10 EUR per piece on AliExpress), but they're quiet and cool. I bought 1.5A motors which I couldn't drive with the TMC2130s that are usually recommended. Most people on OnStep recommend 400 step 0.9A motors - those will work fine with TMC2130s.
In the OnStep config, I use 32 microsteps for tracking. This gives 7680 steps per degree. I set the motor current via SPI to 1200mA for tracking and 1400mA for GoTo. For good GoTo speed (since the MKS Gen L is a slow board) I use 8 microsteps during slews. This is a nice feature of the TMC5160/2130 drivers. My base slew-rate is 2 degrees/second.
The controller needs 12V. I control it with SkySafari and the inbuilt web-interface from OnStep. If you don't use the MKS Gen L but build your own board you can add a ST4 port which can be used for a handcontroller. I demo'ed a wireless handcontroller which was now added to the standard repository which means you can use a handcontroller even on builds such as this.
Below is my final build stage, with the controller nicely attached to the legs of the mount: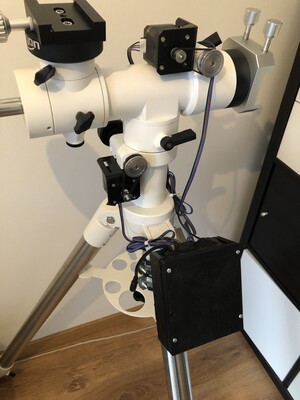 I hope this helps somebody.
Cheers,
Jesco
Edited by jesco_t, 04 April 2022 - 09:08 AM.