Hello everyone!! I am back again here with another mirror making project and hoping to avail the good counsels of esteemed members just like the last time which was not too long back. I was helped by quite a few very knowledgeable members and I would forever be grateful for the knowledge instilled by them. Here's that mirror making thread.
When I had bought glass blanks (plate glass), I had bought 2 8" blanks just in case I damaged the first one badly - the first one turned out not too bad except that I still haven't been able to judge the minor astigmatism that's present there. Barring that I Have been able to have decently clear views upto 280x. At 280x though it's a little soft but that's partly also due to my mirror cell not having been constructed properly and the silicone that's holding the mirror, so I surmise, is distorting the ultra thin (standing 12mm at the center) mirror.
I started working on Mark II on 7th March or so, and the progress has been slow due to not being able to find optical grade CeO2. I spent about close to 20-25 hours polishing it with substandard CeO2 and then found a place (optician) in my town who gave me a little of good quality CeO2 a few days back. Progress has been expedited since then. For lucky me, grinding and polishing went without a single significant scratch this time.
After last nights session I realize that I have a decent parabola on the mirror except for a bad TDE and perhaps not quite a smooth curve. WIth Ronchi my guess was that I should be about 1/10 or so and then in the morning I took just one set of reading to confirm that. Since the room I work cannot be made a darkroom I just took a single reading to gauge where the mirror stood. More sets of reading will follow later at evening/night.

So the question I have is - how to deal with the edge now without messing up with the figure too much? I will add 70% null zone image along with more readings later. Can I use thumb or some very small star shaped felt pad stuck to thumb to bring down TDE? Thumb or a finger would give better control working the edge is what I am thinking.
Thanks a ton in advance and good to be back here!


Mirror details:
Dia: 198mm (clear aperture) 1mm bevel
glass type: plate glass
thickness: 19mm (now standing about 15-16mm at the center)
FL: 2343.15 (I need to measure it more accurately but should be off only by 8mm or so)
Intended F ratio: f/6
Ronchi grating is 152 LPI (a huge thanks to Lucas for sending these lovely Ronchi screens!!). Both the Ronchis are outside RoC.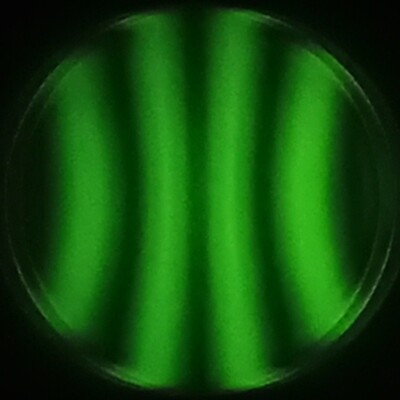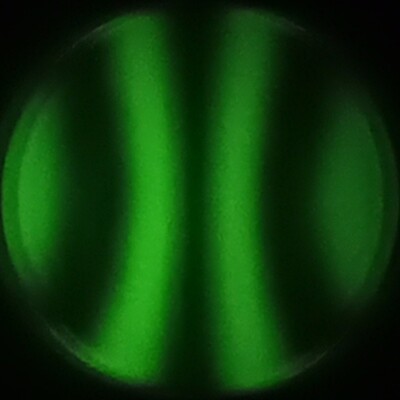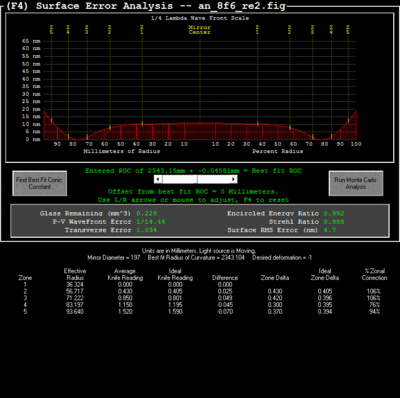 EDIT: I have been cautious this time to make sure that I have taken all the precautions to avoid astigmatism this time and having run Ronchi through multiple diameters (separated by about 45 degrees or so) I have not been able to see any significant signs of it. But I still need to check it again as it may still come as a surprise.
Edited by Knight Sky, 08 April 2022 - 06:58 AM.