OK folks. I decided to do this effort because of all the questions we've gotten. I will emphasize you don't need to get this much stuff!
While I have a Mod3, so that provides a lot of flexibility, you can still do a lot with just afocal. It's just a bit different. In afocal you change eyepieces to get higher or lower magnifications.
Pro Tip: using your glasses when observing greatly tightens up the image for me. It's actually quite dramatic. I don't use my glasses when observing through eyepieces for visual. But for NV I use glasses. There is a ton of eye relief so that's no issue.
If you have any questions about a specific picture, let us know in the comments below and we can address the picture by itself.
Click on the picture for a larger view of it.
Below is my case that I have all my NV stuff in: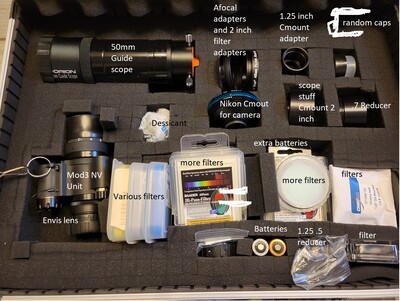 Filters and more filters! Actually, all you would normally need is a HA filter and a long pass filter depending on your light pollution level. It can be useful to be able to do 2 inch and 1.25 inch. 1.25 inch is significantly cheaper. 12nm HA can be useful in certain situations such as fainter objects. It's not as detailed as some of the more narrow filters. There honestly isn't a ton of difference in the different filters in my opinion. My 8nm is about the same as the 6nm. Going from 12nm to 3.5 you'll see a difference in detail, but it's not like anything too crazy.
Long pass filters are very helpful in heavy light pollution. I love the 685nm for the Milky Way at 1x. Try unfiltered and long pass filters for objects.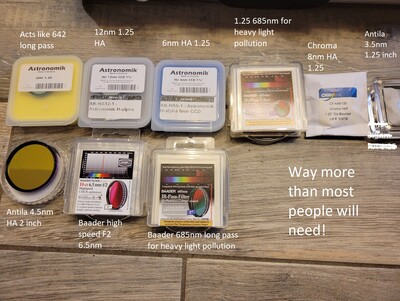 This guide scope cannot be used with afocal, but maybe some can get afocal to work for some situations. This is prime focus. This provides something like 7x I believe. Good for very wide field views.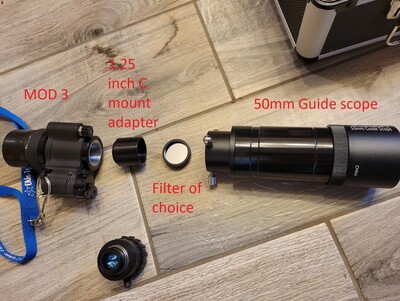 All together below. You adjust the focus by sliding the Mod3 in and out. It's not ideal, but it works good enough. Kind of awkward.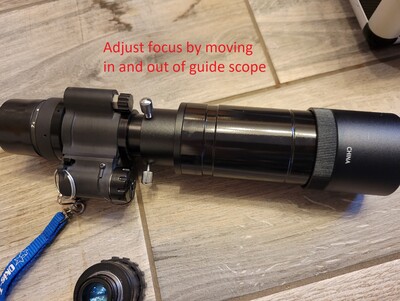 Below is how you would use a mod3 with a camera lens. This method I decided to use to keep things simple. But putting the filter inside the Nikon cmount adapter is another method. Kind of difficult to engineer. I did it with hot glue and an old color filter taken apart. I could only use low profile filters in that situation. In the below setup, you may have some stray light issues. A dew shield is a must and this one has one built in. Slick. I get a little tired hand holding this setup. Keep that in mind when picking camera lenses. Shutter control mandatory to keep the shutter open. It's a feature on some cmount camera lens adapters.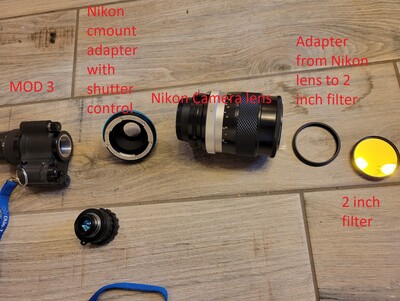 All put together below...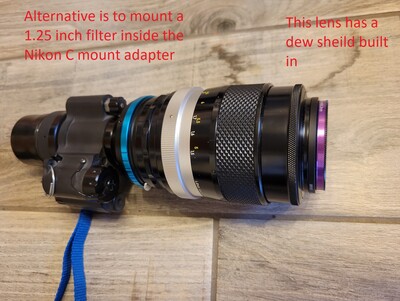 Afocal mode using 1.25 inch. Because I have an Envis lens, I can do afocal just like if I had a PVS-14. It's the same setup really when all put together. For afocal, 40mm provides .7 reduction. A 27mm eyepiece should be native focal length. Something like a 13mm would be like a 2x barlow. I've not used many eyepieces in afocal, but if you have a PVS-14 you have no choice but to do afocal. 1.25 inch mode is much cheaper all the way around. Afocal does provide some messy edges of the view because of the curvature of the Envis lens (guessing). But it's still good enough to me. I prefer prime focus when not using heavy reduction, but afocal is fine also in my opinion.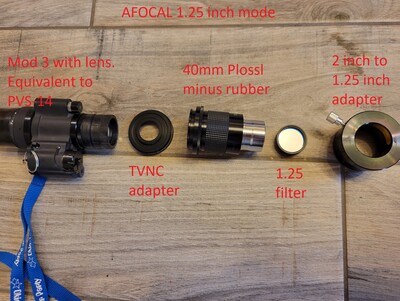 Below is the afocal stack in my 10 inch dob. You may have to put in a small extension tube or just pull things out a little. Afocal is good for scopes with limited inward travel. Not great for scopes with a lot of inward travel.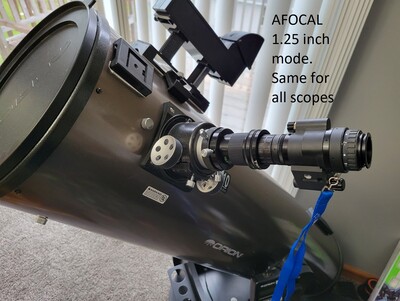 This is the 67mm Televue setup below. Pretty crazy but it does work quite well providing a .4 reduction. So brighter images and smaller images. You may need to rebalance the scope when using it (very likely).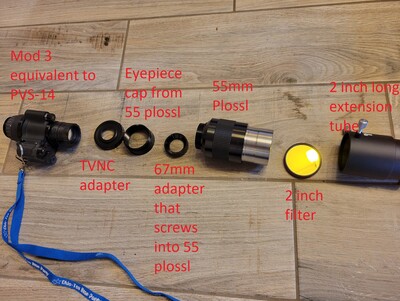 Below just shows the 67mm lens screwed into the 55 plossl.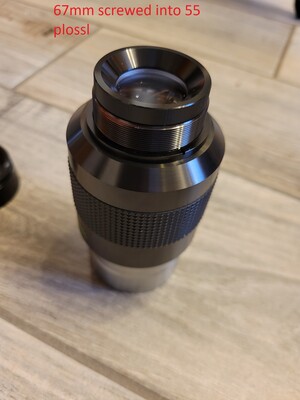 Below is the cap screwed back on top of the 67mm lens. Ready to go now for 2 inch afocal work.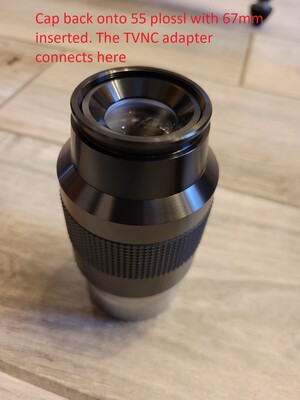 Very tall stack. I like using this setup in refractors. But it works fine in the 10 inch dob. Personally I see no reason to use the Paracorr with this setup. Just doesn't seem necessary and it's already pretty crazy a stack.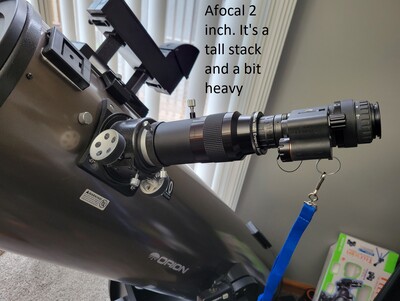 1x observing below if you have 2inch filters and the TNVC adapters. Stray light can be something to consider. I usually use my hands to shield the light. My neighborhood has a ton of stray light.
Below the 1x 2 inch all together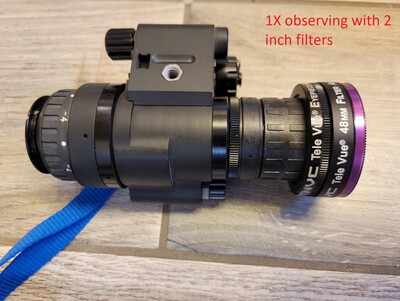 1.25 inch 1x observing. There could be other adapters, but this one works well. Do not screw all these on tight...just have them mostly connected. Otherwise you could have trouble getting them apart.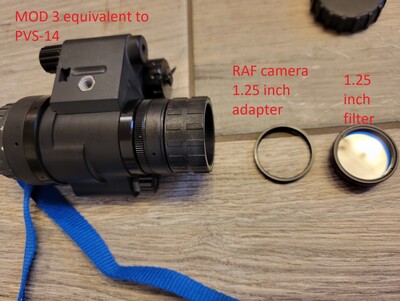 Below is the adapter on the filter...pretty simple.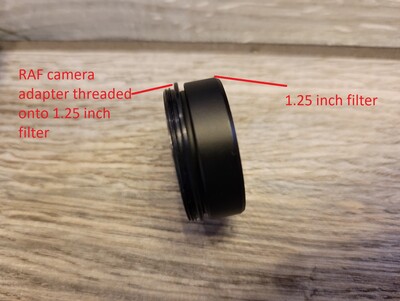 Below 1x observing all together. Stray light always possible. HA filtered for nebulas and 685nm for everything else.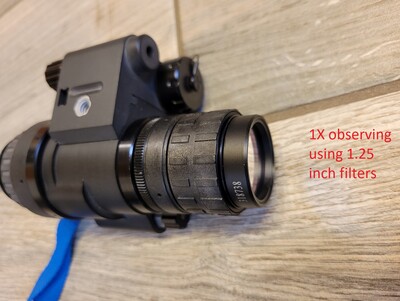 Personally, I don't like using the filter wheel. It is handy for testing filters and unfiltered on objects. But it's more effort than I like to do. And stray light gets into this wheel so I have to put a towel over it. However, for prime focus in the 6 inch F4, this does provide a nice view. But I can't reduce the image so it's operating at F4. I'm probably going to sell all of this and my 6 inch F4 scope at some point.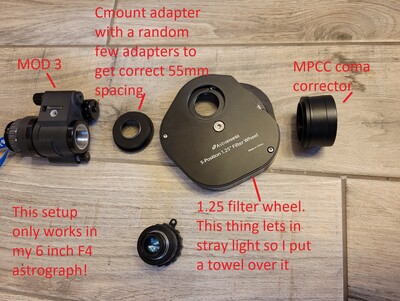 Below is all together with the filter wheel.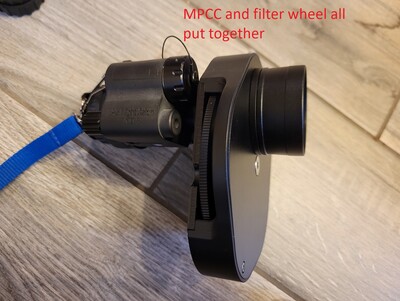 In the scope below...stray light issues so put a towel over it.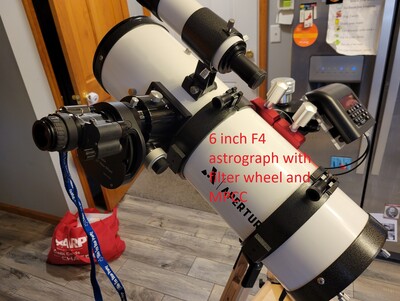 OK. Here is some prime focus. Very simple and lightweight and short stack. Good for any telescope. When using prime focus, you really change telescopes to get different magnification rather than changing the eyepiece. Sure, you can barlow lens or use the .7 reducer...but I like using difference scopes. 102mm F5 refractor gives wide field views and pretty fast. 8 inch SCT super zoomed in for globulars.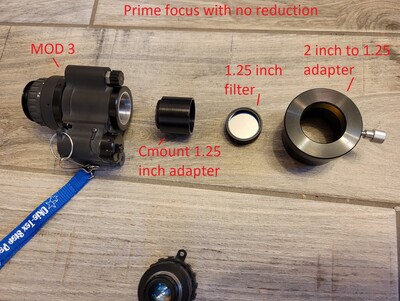 In the scope below. Any scope will probably work for this setup.
.7 Antares setup below. This requires a bit of inward travel, but most scopes should do OK if they have some decent inward travel. Not every scope will work though. Sorry...filter actually goes into the adatpter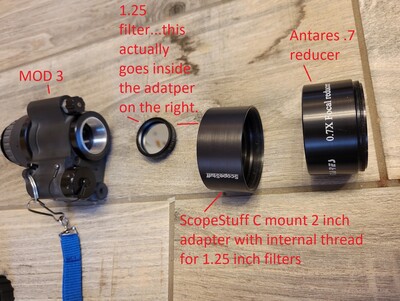 Filter inserted into the adapter. It's a little funny getting filters in and out of that..but it works good enough.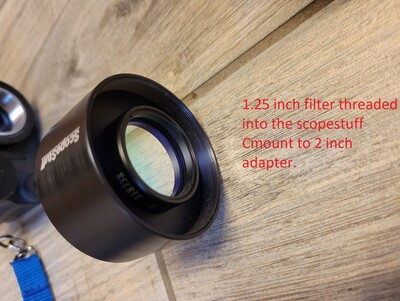 Ok...so this is not inserted all the way tight. Unless you modify your Mod3, it doesn't fully tighten. I just leave it a bit loose and use it as you can see below. The gain adjustment is in the way a bit. I didn't find it necessary to adjust anything...it's just slightly loose when in use.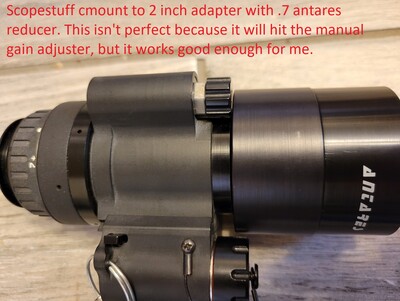 Below the .7 setup seen in a telescope. Again, depends on the scope if this will come to focus.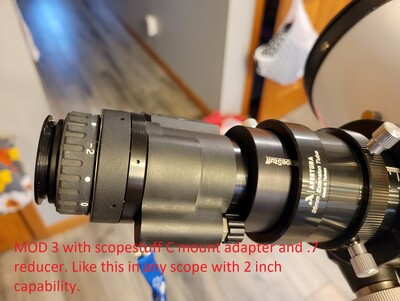 Here below we are doing simple unfiltered work. Put a filter on it if you want to. This will work in any telescope that uses a diagonal. The diagonal should be NOT a dielectric because those filtered out certain light. This Baader BBHS works good. This is prime focus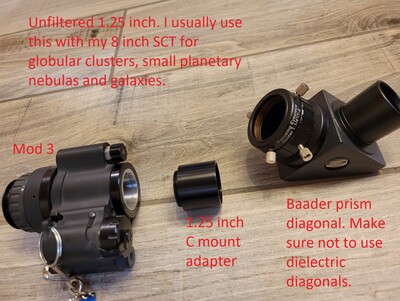 Prime focus inserted in the scope below. Looks good, light weight. Great for Globulars!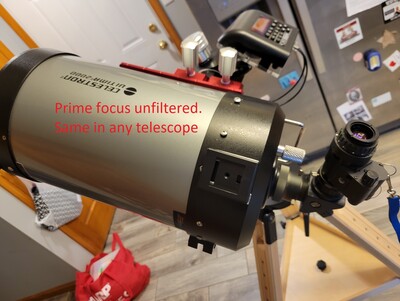 Below we're just adding a 2x barlow to zoom in a little. I find a 3x barlow is too much. But the 2x works well.
In the scope...not bad and usually I don't need to rebalance.
Edited by GOLGO13, 21 April 2022 - 01:18 PM.