This month, very active poster to our forum,Garyth64 has provided this image of his favorite classic to start the June thread. Gary had this to say when I asked him about the scope.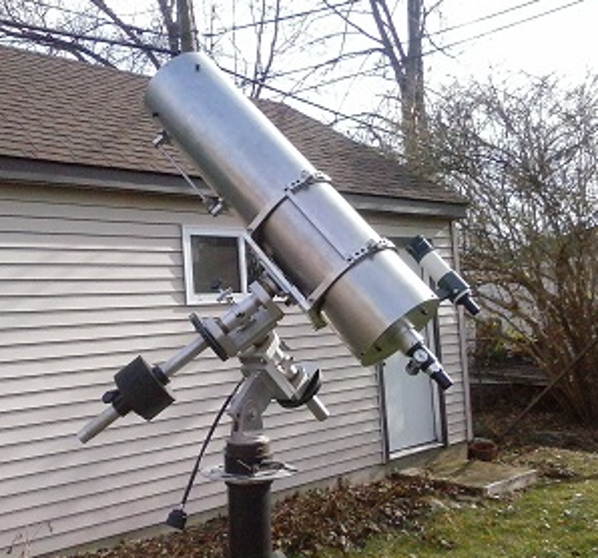 "I had a hard time deciding which of my telescopes to highlight here. Although I have had many classical scopes, I have always loved the homemade ones. I decided on my 8" f/3-f/18 Gregorian.
Why a Gregorian? I felt that with its concave mirrors, it was something I could make. After having many discussions with some members of the Detroit Astronomical Society, and mainly Tom Waineo, we settled on a f/3 primary. I began grinding the 8" mirror during the summer of 1968.
I had trouble getting a good curve on the f/3 primary, and Tom Waineo took the mirror back to Boston with him, where it would touch it up. Tom also generated a 2-1/2" secondary with a RoC of 11.5". I polished the finished the secondary using a null test.
By 1970, the scope was done and the optics were mounted in a sonotube. The back plate was made from 3/4" plywood. Very crude, but it all worked, and gave some pretty good views.
Because of life events, the scope was dismantled and the optics were kept in a box for about 30 years. In 2012, I remounted the optics into a aluminum tube, and made new cells for the secondary and the primary.
The primary mirror suffered a few chips on its edges over the years. They weren't very large, but could easily be seen with looking into the scope. So last December I decided to make a new primary for it. I ground and polished another full thickness mirror and kept its f.l. within 1/2" of the original. I've made other mirrors and they came out very good, but this f/3 curve for me started to take up too much of my time.
I asked Mike Lockwood if he would finish the mirror, and he said yes. Thanks Mike.
So this picture shows my Gregorian in 2012 on one of my homemade mounts:"
Great looking build Gary.Thanks much for sharing this with us!
The basic guideline for this thread is to list ads and auctions for classic/vintage scopes and associated accessories that others may be interested in. Do not post your own ads or the ads of your friends, this includes items you may be trying to sell for someone else. We request that you do not post photos from ads. If you must have some reference to a photo in the post, post a link to the photo, not the photo itself. Concentrate on the item for sale, and not the seller.
Please post a live link to the item. Do not post "PM me for the link".Short discussions can take place about the items listed. When quoting a post, edit the quoted post to include only the part you are replying to. Do not post the entire ad text, or large blocks of it, without permission from the author. Keep on topic, please!
Buyer Beware- CN is not responsible for any of the ads or auctions posted here or their content. There are some scams floating around, so do your homework before pursuing any ad.
and this note from the moderators
Let's remember everybody, there's no one place that has all the best-used scope finds just as there's no one place that never has anything. All have something. No need to beat subjective matter, whatever the topic, into the ground. For the sake of all of us who love the classic forum, please keep moving the thread forward. Remember that many of your fellow forum members are already vintage themselves. Instead of restating your opinions over and over, consider sharing something new, insightful, or otherwise constructive to the topic at hand.