Hi All,
During my last trip to Namibia I had the opportunity to spend 10 cloudless nights under a Bortle 1 sky (at the Rooisand Desert Ranch near Gamsberg). Of the available 105 hours of full astronomical darkness I managed to use 93 of them for observing and mostly sketching. That was more than I had hoped for!
For the trip I only had one goal: observe all Caldwell objects that I can't see (or hardly see) from La Palma (because I don't know if and when I'll be back in Namibia...) In practice this mean everything from Caldwell 83 and up, but because I had some more time than anticipated I could stretch it to everything from Caldwell 80.
It will take some time before I will finish this massive project, so I will show my progress here whenever I finish a sketch, starting with number 80, then 81 and so on until 109.
For observing I used two telescopes: a 12" F/4.8 dobson with very fine optics and a 16" Dieter Martini dobson with Alluna mirror. Both were built wonderfully well and were a true bliss to work with.
Here's a picture of both from my observing platform, pointing south over the beautiful landscape for another night of hard work: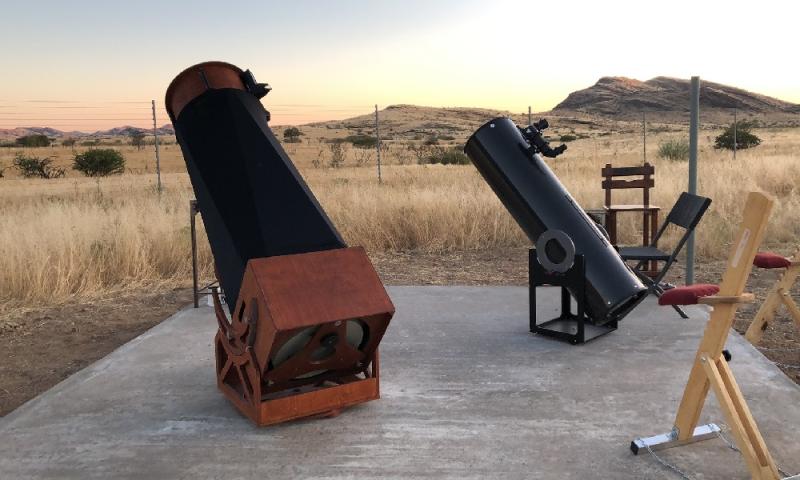 Time to get started and I can't think of a better object than Caldwell 80 - NGC 5139, of course Omega Centauri! It's incredibly massive and bright, but not really denser towards the core; the condensation is most evenly spread throughout the whole globe, only fractionally brighter in the middle. The shape is definitely oval and defined quite well near the edges. In the center I noticed two darker pockets, like eyes, with in between them a thin line of tiny stars. Up and right within the cluster a small star chain could be seen, like a short arm. A similar line was seen down and left, but outside of the cluster. On the left side of the core, a few stars in a trapezoid shape shone just a tad brighter. Beside it was one of the few double stars in a rich star field. I decided to sketch this one at the lowest magnification, to seemingly shrink the cluster to somewhat acceptible proportions… Sketched with a 16″ Dieter Martini @58x.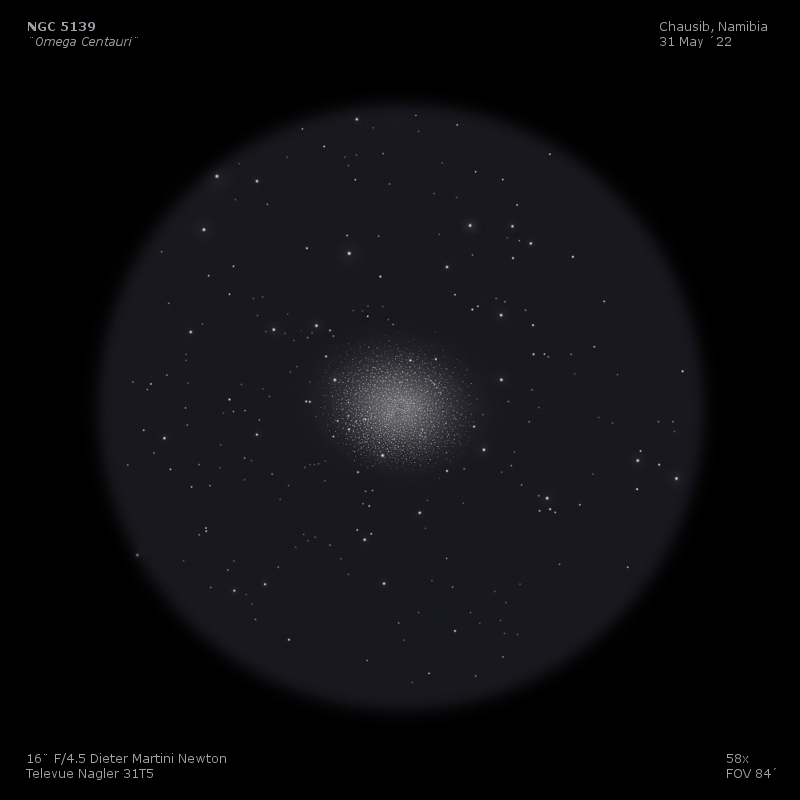 Edited by cloudbuster, 11 June 2022 - 01:45 PM.