I have been working on a Hubble Palette image of the Crescent nebula. I was however after an object which lies very close to this nebula, but was only discovered in 2008. Fairly recently in my book.
I was very stoked to see it already in the Hydrogen-alpha data after stacking. But I knew from other images that this object should shine blue, so I had my hopes on [OIII].
Using my William Optics GT81 telescope, the Flat6A III 0.8x reducer, the ASI2600MM Pro camera (mono) and a filterwheel with S, H and O filters I got to this result.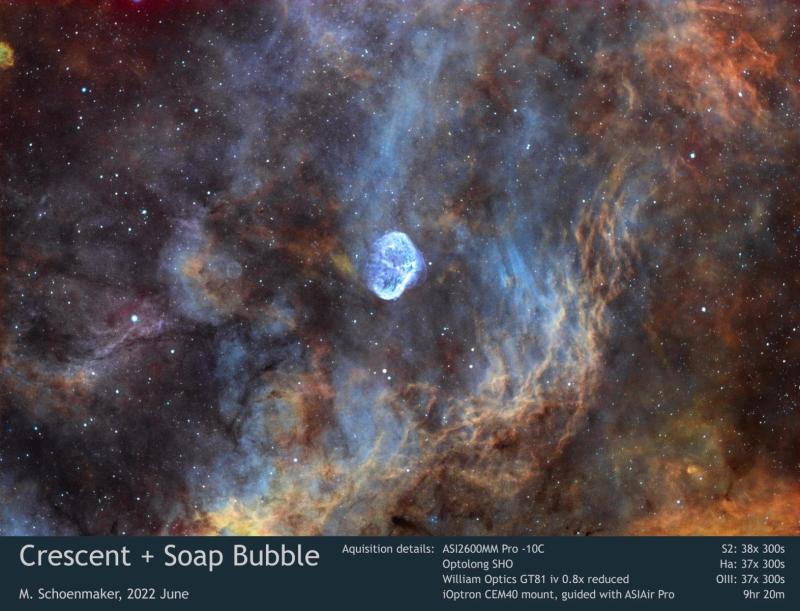 In order to show how I reached this result I screenrecorded the processing. With all the explanatory talking it turned out to be pretty long. So I decided to split it in two parts and share it on YouTube.
I am certain that I did things in ways that could be improved. Please feel free to post your feedback.
By the way, yes I know I should have shot darks... ;-)

Part 1: Using Siril to stack everything.
https://www.youtube....h?v=lihYh83bfJY
Part 2: Using Starnet++ to remove the stars and Photoshop to put everything together (and re-add the stars).
https://www.youtube....h?v=BBy7VDx6xjw