After a couple bumps in the road I'm up and running with the Uranus-C camera. My plan is to replace the Neptune-CII as an upgrade to a slightly larger sensor. I'm not into accumulating a camera collection so having one non-cooled OSC is all I need. With one more night of testing I'm sure it will serve me well.
C11 @ f/6 with a Universal Alan Gee II (UAGII) telecompressor, Uranus-C with IDAS-LPS-D3 filter
More specs are provided with each image in My Gallery. Check the "Large" image for each in the gallery to see close to full sensor size. I only cropped a bit of the edges to remove field rotation so you can see almost the full sensor size. I'm also using the Mini-TEC cooler which seems to consistently provide an 8° C drop in sensor temp from ambient. I believe it was running at 16° C by the end of the session.
M57, 4" / 4'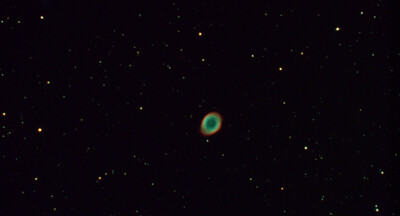 M27 with a lot of stretch, 4" / 10'